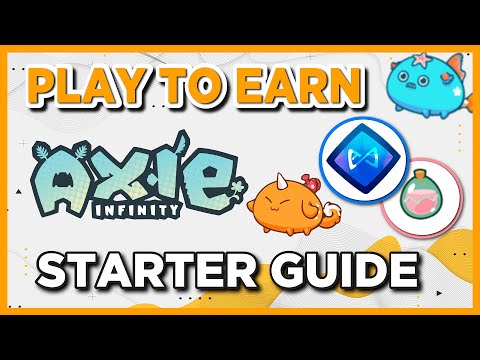 Axie Infinity is skyrocketing in use and profitability so let's review how to get started with this free play to earn game Axie Infinity, how to buy and sell Axies, and info on AXS and SLP the tokens making crypto investors millionaires! Subscribe to VoskCoin - http://voskco.in/Sub
Compass sells ASIC miners - https://voskco.in/compass
Review the BEST Helium hotspot miners - What is the BEST Helium Hotspot Miner to Buy? | by VoskCoin | VoskCoin | Medium
Bobcat Miner 300 is the BEST mining rig to buy! https://voskco.in/HNTb
Battle collect and earn with Axie Infinity that's a pretty fun tagline and axie infinity gamers, streamers, and collectors are literally becoming millionaires by investing into this NFT game and the NFTs AXIES or farming Axie shards AXS and SLP tokens or smooth love potions used for breeding and other fun actions in the Axie Infinity game! Let's review how to get started with Axie Infinity and how to play to earn and hopefully make money with the best play to earn NFT game out right now Axie Infinity and a video guide on setting up and using the Ronin wallet for buying and selling Axies on the marketplace!
Axie Infinity official website - https://voskco.in/axie
Ronin wallet official AXIE AXS wallet - https://voskco.in/ronin
Axie that I bought on the video - https://marketplace.axieinfinity.com/axie/3838387
Metamask video tutorial guide - MetaMask Guide | BEST Ethereum Wallet for DApps and Smart Contracts - YouTube
My new NFTs public address and account on opensea - https://voskco.in/oNFTS

Timestamps


00:00 How to play to earn with Axie Infinity
01:38 Axie Infinity tutorial
02:56 Ronin wallet guide for Axie Infinity
03:44 Ronin wallet setup for Axie Infinity
09:48 How to buy and sell Axie Ronin wallet marketplace
11:47 This Axie reminds me of Tails Vosk Doge!
12:13 Ridotto
14:13 Axie Infinity review and AXS SLP prediction
VoskCoinTalk the VoskCoin forum - http://voskco.in/forum
VoskCoin Facebook - Redirecting...
VoskCoin Reddit - https://www.reddit.com/r/voskcoin/
VoskCoin Discord Server Invite - http://voskco.in/discord
VoskCoin Twitter - https://twitter.com/VoskCoin
VoskCoin Instagram - https://www.instagram.com/voskcoin/
VoskCoin is for entertainment purposes only and is never intended to be financial investment advice. VoskCoin owns or has owned cryptocurrency and associated hardware. VoskCoin may receive donations or sponsorships in association with certain content creation. VoskCoin may receive compensation when affiliate/referral links are used. VoskCoin is home of the Doge Dad, VoskCoin is not your Dad, and thus VoskCoin is never liable for any decisions you make.
Here's how to Play To Earn with Axie Infinity the BEST NFT game!