Hi, Could anyone recommend a good cheap Powered(?) USB hub please, thanks
Hi, I'm just after expanding the number of USB sockets on my laptop (Lenovo X230), which currently has 3 I believe… 2 x USB3 sockets and 1 x USB2 socket… I often use a printer, mouse, charge my phone via a USB lead, and connect 1 or 2 external SATA HDDs via a USB to SATA lead/s… 1 of my SATA to USB leads is USB3 "enabled" and the other USB to SATA lead is just USB2. Thanks
Good and cheap. Two words that sound great but usually don't go together.
I follow the advice I learned years ago to over buy USB hubs because they 'always' burn out.
So I took that advice and ran to the cheapest place I know and purchased a few USB hub's to plan for burnouts.
I used this with Gecko Science USB miners. It did burn the USB hubs out, in time.
I actually buy a lot of tech and mining stuff from that web site. Enjoy.
To note: I opted for the USB2.0 instead of 3.0 because I don't need 3.0, and the unit is cheaper.
I'm sure you always get what you pay for, so for $2 bucks… it ain't going to be the Taj Mahal . But I do believe the tell about 'they always burn out'.
I remember watching a video where the dude described how to build your own computer quality USB hub that will never burn out. At the end of the video he said "or just get a real 4 port USB hub and mount/install it to your computer".
Edit: I can't tell if the hub I linked has an external power added, The ones I purchased did, they came with a USB connector cord and a 120V connector cord. You want an "added external power" type.
This may be more slots than you need, but I've been using this anker USB hub for 2 years and enjoy it. My main advice is to get a powered hub, so then you'll never run into power issues w/ multiple devices attached to it.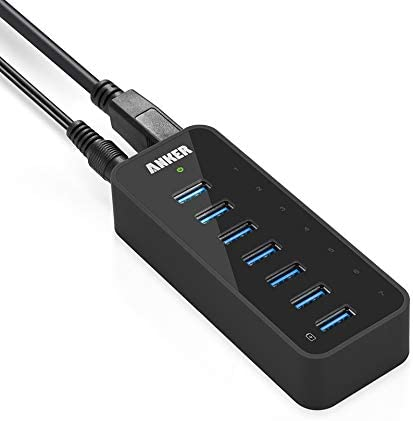 https://www.amazon.com/gp/product/B014ZQ07NE?ie=UTF8&psc=1&linkCode=ll1&tag=oskoin-20&linkId=d21a5355c9484ba0a5494fb47d4e6e69&language=en_US&ref_=as_li_ss_tl
Also shameless plug, VoskCoin is an amazon affiliate