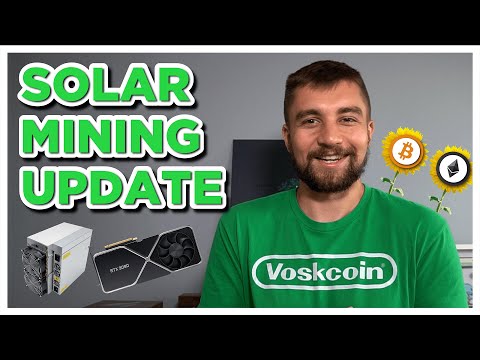 Here's how I lost $10,000 $20,000 and received a $40,000 BILL on my journey to build a solar powered Bitcoin crypto mining farm on a 50 acre lot now a 100 acre lot?!
Subscribe to VoskCoin - http://voskco.in/Sub
Get $25 for FREE with CryptoCom - https://voskco.in/cryptocom
Review the BEST Helium hotspot miners to buy - What is the BEST Helium Hotspot Miner to Buy? | by VoskCoin | VoskCoin | Medium
I did not think it would be cheap or easy to build a solar-powered Bitcoin mining farm but it is proving to be increasingly difficult, stressful, and time consuming. After an HOA obliterated our home build plans and of course our big solar panel buildout for a green mining farm we had to take the loss and move onto a new property. After securing 100 acres to build our home and a mining farm new hurdles have risen like a $40,000 bill as well as never ending delays on builders and contractors along with complicating the mining farm build even further due to a creek! Let's review the VoskCoin Bitcoin crypto mining farm powered by solar panels and how this build-out is going… or isn't…
Tour the BEST solar powered DIY Bitcoin mining farm - The BIGGEST DIY Bitcoin & Cryptocurrency SOLAR MINING FARM Tour!! ☀ - YouTube
VoskCoin eBay store VoskBay direct link - https://voskco.in/ebay
Links!
We bought 100 acres to build a bitcoin mining farm - https://youtu.be/YN0zSEZeKNs
Learn how I lost $20,000 with our 50 acre lot for a solar bitcoin mining farm - I Lost $20,000 trying to build a Solar Powered Bitcoin Mining Farm - YouTube
When we bought 50 acres to build a solar powered crypto mining farm - We Bought 50 ACRES to Build a SOLAR POWERED CRYPTO MINING FARM !! - YouTube
My rough plans for building a solar-powered btc crypto mining farm - Building a SOLAR POWERED Bitcoin Crypto Mining Farm | My Rough Plans - YouTube
Join the solar mining farm build plan discussions on VoskCoinTalk the best cryptocurrency forum! VoskCoin Solar Powered Crypto Mining Farm Build Plan! ☀️ Input Needed!

Timestamps


00:00 Losing $10,000 $20,000 and a $40,000 bill
01:27 Quest to build a solar powered Bitcoin mining farm
02:13 50 acres solar mining farm
05:35 100 acres solar mining farm
12:18 Hurdles building a solar powered mining farm
14:55 VoskCoin Bitcoin mining farm update
16:10 Mining farm and Crypto YouTube update
VoskCoinTalk the VoskCoin forum - http://voskco.in/forum
VoskCoin Facebook - Redirecting...
VoskCoin Reddit - https://www.reddit.com/r/voskcoin/
VoskCoin Discord Server Invite - http://voskco.in/discord
VoskCoin Twitter - https://twitter.com/VoskCoin
VoskCoin Instagram - https://www.instagram.com/voskcoin/
VoskCoin is for entertainment purposes only and is never intended to be financial investment advice. VoskCoin owns or has owned cryptocurrency and associated hardware. VoskCoin may receive donations or sponsorships in association with certain content creation. VoskCoin may receive compensation when affiliate/referral links are used. VoskCoin is home of the Doge Dad, VoskCoin is not your Dad, and thus VoskCoin is never liable for any decisions you make.
VoskCoin solar-powered mining farm update July 2021