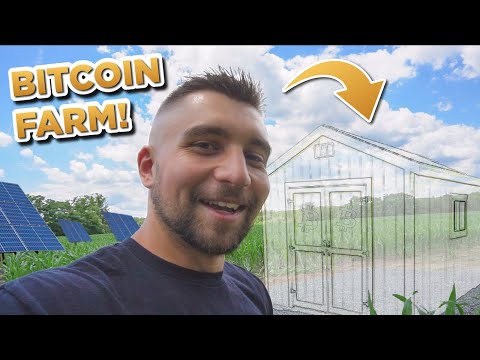 After more than TWO years, we are finally making huge progress with the 100 Acre VoskCoin solar powered crypto mining farm! What will my 3.0 mining shed be like? How big am I planning on taking building this mining farm?! Subscribe to VoskCoin & follow my crazy crypto journey! http://voskco.in/Sub
Get $15 for free on your first trade over $100 & 10% off your fees! - https://voskco.in/ftx
What should we name the 2.0 VoskCoin Mining shed?! Crypto Building Update! (We Need Your Help!)
I fell in love with Bitcoin mining, Ethereum mining, and crypto mining in general in 2017 because you were able to take hardware and turn it into income producing machines that mine 24/7 and basically start earning you cryptocurrencies and thus money while you sleep. Once you pay off a mining rig, and pay the electric bill it's essentially a money printing machine. Solar power is a way to generate electricity endlessly yourself and instead of making electric companies rich, you pay off the solar panel investment and then you have a green Bitcoin mining farm making you green – money and coins! My solar powered Bitcoin mining shed is almost ready - how will I set up my mining shed? How am I planning on creating good airflow? What miners will I use and how many ASICs am I going to deploy?
Recent VoskCoin mining farm update - Building VoskCoin HQ for Solar Bitcoin Mining and Crypto YouTube! - YouTube
Join the solar mining farm build plan discussions on VoskCoinTalk the best cryptocurrency forum! - VoskCoin Solar Powered Crypto Mining Farm Build Plan! ☀️ Input Needed!
Learn how I lost $20,000 with our 50 acre lot for a solar bitcoin mining farm - I Lost $20,000 trying to build a Solar Powered Bitcoin Mining Farm - YouTube
My rough plans for building a solar-powered btc crypto mining farm - Building a SOLAR POWERED Bitcoin Crypto Mining Farm | My Rough Plans - YouTube

Timestamps


00:00 Building a Solar Powered Bitcoin Mining Shed
02:03 VoskCoin Mining Farm Update
05:38 Converting a shed into a BTC mining farm
09:18 Solar Powered Mining Farm Plans
12:00 VoskCoin Mining Shed Review
Follow us on our official social media accounts - VoskCoin | Linktree
VoskCoin is for entertainment purposes only and is never intended to be financial investment advice. VoskCoin owns or has owned cryptocurrency and associated hardware. VoskCoin may receive donations or sponsorships in association with certain content creation. VoskCoin may receive compensation when affiliate/referral links are used. VoskCoin is home of the Doge Dad, VoskCoin is not your Dad, and thus VoskCoin is never liable for any decisions you make.
How I'm Building An EPIC Solar Powered Bitcoin Mining Shed!