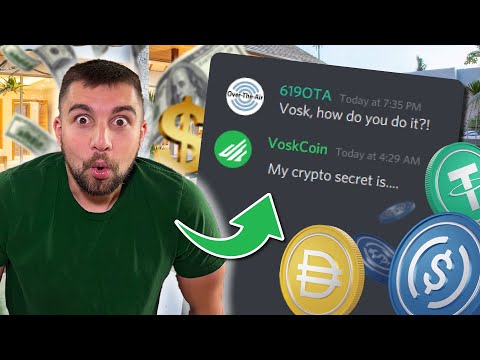 How I Make Crypto GAINS and Preserve My BRAINS! I've made a lot of money investing in cryptocurrencies but I have lost a lot of money making a bad move with cryptocurrency too. Here's how I secure my crypto gains and invest long-term! Subscribe to VoskCoin - http://voskco.in/Sub
FTX US is the best cryptocurrency exchange - Buy and Sell Crypto on FTX: Bitcoin, Ethereum and more
Learn more about the CARD cryptocurrency - Cardstack · The Collaborative OS for Web3
Compass the Bitcoin mining marketplace - Compass — Bitcoin Mining and Hosting
Helium hotspot miners are the best mining rigs to buy - Is this the BEST Helium Miner EVER? - YouTube
This is the best mining rig you can buy right now - https://voskco.in/b300
Crypto millionaires are a real thing, and you could become the next cryptocurrency millionaire but only if you invested in the right coins and tokens AND also know how to preserve your wealth and take profits… This isn't financial advice but I have learned some seriously expensive lessons over the years and I'm here to share with you some of my techniques on how I secure my crypto gains, and how stablecoins whether its Tether USDT or USDC or BUSD or GUSD or whatever US dollar pegged stablecoin or even a multi-collateral token like DAI can be absolutely life changing for you and help you achieve financial freedom as well as earn huge passive income in cryptocurrency!

Timestamps


00:00 Today I am going to discuss one of my biggest tips
01:19 The biggest transfer of wealth in human history, Crypto!
02:37 FTX.us the best exchange!
03:10 Stable coins play a key role in the crypto space
04:44 USDT tether, and its FUD
05:37 Alternatives to USDT tether
06:00 Why I think stable coins play a key role in the crypto space
07:12 Cardstack
07:54 Not every crypto is going to recover its all-time high
09:10 If you have huge gains, realize them in stable coins
10:00 If you want to take a break, go stable coins!
11:30 Conclusion crypto is a long game!
VoskCoinTalk the VoskCoin forum - VoskCoinTalk - Best cryptocurrency & blockchain forum
VoskCoin Facebook - Redirecting...
VoskCoin Reddit - https://www.reddit.com/r/voskcoin/
VoskCoin Discord Server Invite - VoskCoin
VoskCoin Twitter - https://twitter.com/VoskCoin
VoskCoin Instagram - Login • Instagram
VoskCoin is for entertainment purposes only and is never intended to be financial investment advice. VoskCoin owns or has owned cryptocurrency and associated hardware. VoskCoin may receive donations or sponsorships in association with certain content creation. VoskCoin may receive compensation when affiliate/referral links are used. VoskCoin is home of the Doge Dad, VoskCoin is not your Dad, and thus VoskCoin is never liable for any decisions you make.
How I Make Crypto GAINS and Preserve My BRAINS!