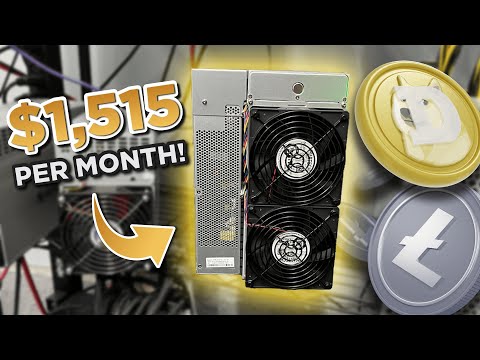 This new BEST Dogecoin and Litecoin Miner is mining $1,515 per month! Earning passive income mining cryptocurrencies is incredibly profitable thanks to the new Bitmain Antminer L7 the best DOGE and LTC ASIC mining rig! Sub to VoskCoin! http://voskco.in/Sub
Get $10 for FREE and 5% off your trading fees - https://voskco.in/ftx
You can buy the Bitmain Antminer L7 from BigSky ASICs! Home - Big Sky Asics
Start mining with DXPool today - DxPool, Worry-free mining
This is the best mining rig you can buy in 2022 - https://voskco.in/b300
We've had the Antminer L7 running non-stop for the last month at the VoskCoin HQ and it's set to earn over $1,515 a month! Despite Dogecoin and Litecoin being down from their all time highs, this miner is still extremely profitable! After waiting many months for it to finally come to market, this miner is officially the best Dogecoin (DOGE) and Litecoin (LTC) miner available! But what are the Antminer L7 monthly earnings and profitability stats? What is the hashrate? Let's review the Bitmain Antminer L7!
Bitmain Antminer L7 official bitmain shop listing - BITMAIN Shop
Watch our original VoskCoin Bitmain Antminer L7 review - NEW DOGE MINER EARNS $117 A DAY?! - YouTube

Timestamps


00:00 This miner mines $20,000 a year!
01:51 How to earn $1515 in passive income a month
02:36 Bitmain Antminer L7 Hashrate
03:54 Mining Litecoin and getting bonus Dogecoin
05:05 Where to buy the Bitmain Antminer L7?
06:40 Antminer L7 30 day profitability
08:21 LTC and DOGE Price Predictions?
10:14 How to setup and monitor the Antminer L7
11:22 Bitmain Antminer L7 Total earnings
13:06 Should you buy the Antminer L7?
15:11 What miner is best for you?
16:35 VoskCoin Antminer L7 review
VoskCoinTalk the VoskCoin forum - VoskCoinTalk - Best cryptocurrency & blockchain forum
VoskCoin Facebook - Redirecting...
VoskCoin Reddit - https://www.reddit.com/r/voskcoin/
VoskCoin Discord Server Invite - VoskCoin
VoskCoin Twitter - https://twitter.com/VoskCoin
VoskCoin Instagram - Login • Instagram
VoskCoin is for entertainment purposes only and is never intended to be financial investment advice. VoskCoin owns or has owned cryptocurrency and associated hardware. VoskCoin may receive donations or sponsorships in association with certain content creation. VoskCoin may receive compensation when affiliate/referral links are used. VoskCoin is home of the Doge Dad, VoskCoin is not your Dad, and thus VoskCoin is never liable for any decisions you make.
How I'm Earning $1,515 Mining Dogecoin with Bitmain Antminer L7!