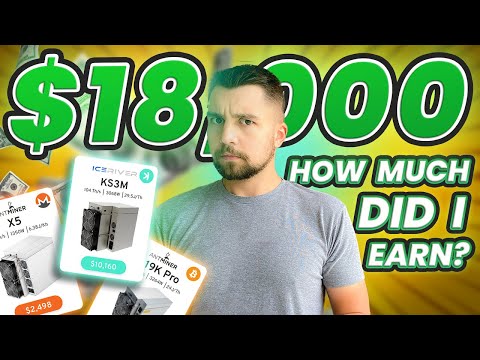 I am mining Bitcoin, Kaspa, Monero, and many other cryptocurrencies, and I just added $18,000 of new mining rigs to my mining farm trying to increase the passive income earnings for my business, so how much money did I make? Buy your own here! Asic Marketplace: Most Reliable Asic Miner Shop - Asic Marketplace
Buy your own BTC or KAS or XMR ASIC miner from AM! https://voskco.in/am
Start hard drive mining for easy passive income - Evergreen
Save money with the code VOSKCOIN
Mining is easy, but miners are expensive, so it's always stressful trying to figure out what is the best miner to buy right now and is building a mining farm really the best way to earn passive income in 2024? I just deployed $18,000 of new mining rigs, and now it is time to review how much they earned over the last week. Most of these new ASIC miners were manufactured by Bitmain, Bitmain is the best ASIC miner maker but a bit shady lol and IceRiver made the other mining rig, and they are also, shady! The Bitmain Antminer S19K Pro is the best BTC miner right now for the price, the Antminer X5 is an interesting CPU miner shoved into an ASIC antminer box, and the IceRiver KS3M is an absolute beast earning a lot of money per day but Kaspa mining is getting really competitive and the earnings continue to drop rapidly.
Bitmain the antminer manufacturer website - https://voskco.in/bitmain
Official IceRiver ASIC miner website - https://voskco.in/iceriver
Follow VoskCoin on Social Media! https://voskco.in/23
Timestamps
00:00 $18,000 worth of new miners
01:50 Iceriver KAS KS3M KASPA miner
03:21 Iceriver KAS KS3M earnings
04:06 How to buy an ASIC miner?
05:00 Iceriver KAS KS3M performance
06:17 KASPA network analysis
08:14 Antminer X5 Monero miner
10:34 Antminer X5 earnings
13:07 Antminer X5 performance
15:03 Antminer S19K Pro Bitcoin miner
15:40 Antminer S19K Pro earnings
16:58 Antminer S19K Pro performance
17:34 How much do my new miners earn?
VoskCoin is for entertainment purposes only and is never intended to be financial investment advice. VoskCoin owns or has owned cryptocurrency and associated hardware. VoskCoin may receive donations or sponsorships in association with certain content creation. VoskCoin may receive compensation when affiliate/referral links are used. VoskCoin is home of the Doge Dad, VoskCoin is not your Dad, and thus VoskCoin is never liable for any decisions you make.
How Much Did My New $18,000 of Miners Earn in Passive Income This Week?