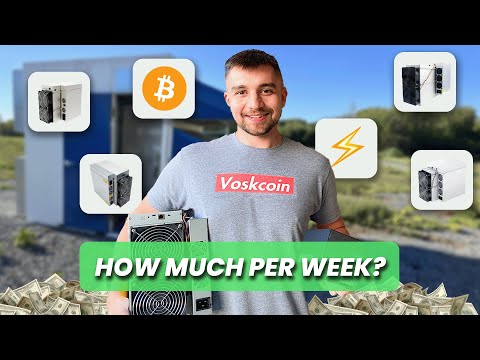 I have been working on building a full-time Bitcoin mining farm, and today I want to review how much my Bitcoin miners earned over the last week and if this new business is actually a good passive income endeavor… Custody your own Bitcoin and other coins with Trust Wallet! Best Crypto Wallet for Web3, NFTs and DeFi | Trust
Buy your Bitcoin miners from ASIC Marketplace - https://voskco.in/am
Bitcoin mining PDUs and other ASIC parts - Altair Technology – Bitcoin Mining Solutions – Bitcoin Miners, Parts & Accessories.
I'm mining Bitcoin in my digital shovel mini pod! Digital Shovel x VoskCoin
Use or mention code VOSKCOIN for a discount!
Antminer series miners are available direct from Bitmain - BITMAIN Shop
My most powerful crypto miner - check out our review of the S19 Pro - https://www.youtube.com/watch?v=rw-xTj_LOCs
Watch our initial review of another Bitmain miner - the S19J Pro! - https://www.youtube.com/watch?v=Q6z0ERW5CtE
Check out our full crypto mining electricity power guide -
https://www.youtube.com/watch?v=eZi_yx_koXc
Learn how to set up any ASIC miner - https://www.youtube.com/watch?v=8XNQ4lP7PIc

Timestamps


00:00 How much did my Mining Farm earn over the last week?
02:35 What Hardware I am running?
04:55 Bitcoin halving
05:52 My Plan with the Bitcoin Mining farm
08:39 Costs for Running my Bitcoin mining
10:05 Efficiency is King In the Bitcoin bear market
12:26 My Efficiency is going up under-clocking the miners!
12:55 I'm also running an ASIC altcoin mining farm
13:51 Antminer S19k Pro Profitability in 24h
Follow us on our official social media accounts - VoskCoin | Instagram, Facebook | Linktree
VoskCoin is for entertainment purposes only and is never intended to be financial investment advice. VoskCoin owns or has owned cryptocurrency and associated hardware. VoskCoin may receive donations or sponsorships in association with certain content creation. VoskCoin may receive compensation when affiliate/referral links are used. VoskCoin is home of the Doge Dad, VoskCoin is not your Dad, and thus VoskCoin is never liable for any decisions you make.
How Much My Bitcoin Mining Farm Earned Last Week