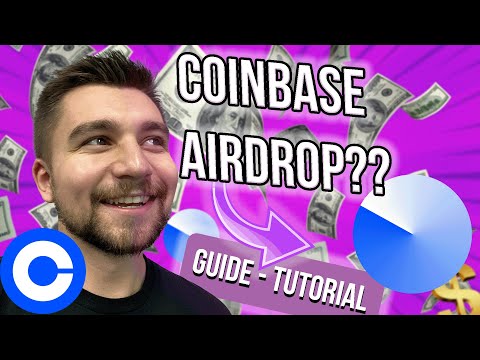 Coinbase could be the biggest airdrop the cryptocurrency sector has ever seen, but they said no token right? So did Arbitrum previously, which is now one of the most valuable coin in the world! Buy the best miner for 2023 here - Evergreen
Check out CUDOS Markets here! CUDOS Markets
Coinbase bonus link - https://voskco.in/coinbase
Coinbase BASE token airdrop twitter thread - https://twitter.com/kashkysh/status/1645485698588491776
Learn more about the best miner to buy right now - The Best Cryptocurrency Miner for 2023 | by Miss Vosk (Alexa) | VoskCoin | Medium
Buy an Evergreen Miner Chia farmer here - Evergreen
Arbitrum ARB is an optimistic roll-up layer 2 scaling solution to ethereum, and so is Optimism OP but now Coinbase basically forked Optimisms blockchain and has brought their own layer 2 solution to market and uh they say that there will be no Coinbase token, but will Coinbase sit idly by when this could be the most lucrative endeavor they have ever embarked on?? Let's hunt the Coinbase cryptocurrency token blockchain airdrop!
Arbitrum Beginners Guide! The BEST Ethereum Layer 2?! Arbitrum Beginners Guide! The BEST Ethereum Layer 2?! - YouTube
Hunting airdrops on the Arbitrum blockchain - Hunting Crypto Airdrops on the Arbitrum Blockchain! - YouTube
Start your journey on the Arbitrum blockchain! - https://voskco.in/arbi

Timestamps


00:00 Coinbase is launching a layer 2 solution
00:47 Base could be the next big airdrop!
01:38 What is Base?
03:22 Cudos, the hash rate collection
04:07 How to participate in the base airdrop?
05:38 Bridging some eth to Base
07:18 Learning about Bridge (you could earn an NFT)
08:23 Block explorer on the base protocol
10:40 Deploying a smart contract on base
13:04 Should you try base protocol?
Follow us on our official social media accounts! - VoskCoin | Twitter, Instagram, Facebook | Linktree
Subscribe to VoskCoin for more passive income tips! VoskCoin - YouTube
Follow VoskCoin on TikTok for more shorts! VoskCoin (@voskcoin) | TikTok
VoskCoin is for entertainment purposes only and is never intended to be financial investment advice. VoskCoin owns or has owned cryptocurrency and associated hardware. VoskCoin may receive donations or sponsorships in association with certain content creation. VoskCoin may receive compensation when affiliate/referral links are used. VoskCoin is home of the Doge Dad, VoskCoin is not your Dad, and thus VoskCoin is never liable for any decisions you make.
How To Become Eligible for the Coinbase Token Airdrop?!