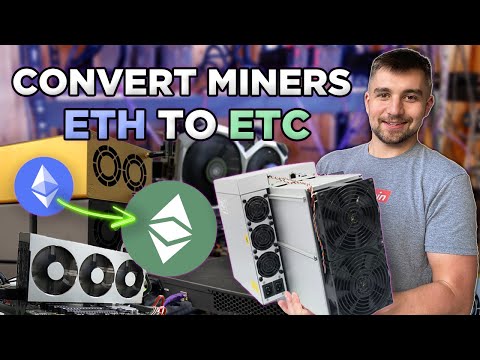 Ethereum is no longer mineable, but ETH miners and GPUs don't have to be e-waste! The next best coin to mine is Ethereum Classic, and almost all Ethereum ASIC miners and GPUs can mine Ethereum Classic ETC, here's a full guide on how to mine it! Sub! https://voskco.in/Sub
Get up to $250 for FREE with BlockFi! - BlockFi Partner Promo | 7.8.22 T
The Ethereum Merge has finally happened after many years of waiting. This has officially ended the Proof of Work chain for ETH, which means that Ethereum is no longer mineable. So now the next best coin to mine after Ethereum 2.0 is Ethereum Classic. This is a full video guide with links to written guides on how to convert your Ethereum ASIC miners to Ethereum Classic ASIC miners and how to convert you Ethereum GPU mining rigs to Ethereum Classic GPU mining rigs covering all major miners like the Bitmain antminers, ipollo miners, jasminers, and of course graphics cards!

GPU Miners:


How to setup your GPUs to mine Ethereum Classic ETC - How to mine Ethereum Classic | f2pool
Buy the best GPUs for mining here - Amazon.com : graphics card

ASIC Miners:


JasMiner
Jingle Mining is their official distributor and has firmware - Jasminer X4 ETCHASH SERVER – Jingle Mining
Rabid Mining also has Jasminer firmware - https://rabidmining.com/asic-miners/
iPollo
iPollo sells their miners direct and has firmware - iPollo Store
RabidMining also has ipollo firmware - https://rabidmining.com/asic-miners/
Bitmain
Bitmain makes antminer ASIC miners - BITMAIN Shop
Select & download your firmware for your Antminer - BITMAIN Shop
If you need assistance on how to find your firmware version - https://twitter.com/BITMAINtech/status/1565556193744957440?s=20&t=voxLFdE8XEA-KWsB_A_rcQ
ForestMiner
Submit a ticket requesting the firmware update from ForestMiner - https://voskco.in/forestm
Thanks to Rabid Mining for assisting the mining community with the firmware links - https://www.youtube.com/c/RabidMining
How to set up ASIC miners - How To Set Up an ASIC Miner - YouTube
Home crypto mining electricity guide - Bitcoin Crypto and GPU Mining Electricity Guide! - YouTube

Timestamps


00:00 Ethereum mining is done!
02:10 Mining profitability with Ethereum was great
03:30 What to do now with your GPU Mining rigs?
04:17 Updating the Jasminer firmware for Ethereum Classic mining
08:52 Updating the iPollo v1 SE plus firmware for Ethereum Classic mining
11:07 Mining ETC with the iPollo miners
13:35 When you see your miners in the pool they are working
14:29 The Bitmain Antminer E9 and Forest miner ETC hash Firmware
16:35 Mining directly into KuCoin
17:45 Using ETH ASICS for ETC mining
Follow us on our official social media accounts! - VoskCoin | Twitter, Instagram, YouTube, Facebook | Linktree
VoskCoin is for entertainment purposes only and is never intended to be financial investment advice. VoskCoin owns or has owned cryptocurrency and associated hardware. VoskCoin may receive donations or sponsorships in association with certain content creation. VoskCoin may receive compensation when affiliate/referral links are used. VoskCoin is home of the Doge Dad, VoskCoin is not your Dad, and thus VoskCoin is never liable for any decisions you make.
How to Change Your Ethereum Miners to Ethereum Classic Miners