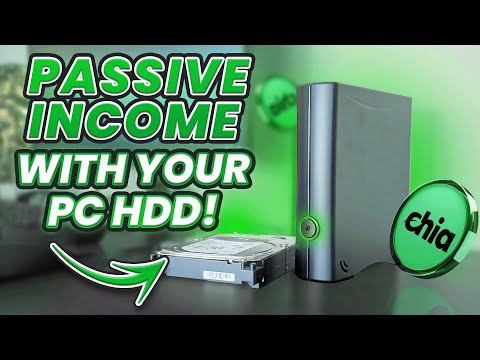 Ever thought about utilizing your computer's hard drives for mining to earn passive income? This is a video guide for how to turn your own computer into a passive income machine, by showing you how to start harddrive mining! Configuring your computer for HDD mining has never been easier! Buy a plug and play HDD miner here - shop – Evergreen
Struggling with plotting? Remote plot with Jusey Miners - JuseyMiners Chia Miner
Buy an internal hard drive here - https://geni.us/gSMTApS
Buy an external hard drive here - https://geni.us/bGbdP
Check out the Tails Edition HDD Miners here! - Evergreen Miner v2.5 VoskCoin Tails Edition
Today we are going to have Brynn, one of VoskCoin's amazing editors, walk through how to set up your computer's hard drive to mine and earn passive income in cryptocurrency, or more specifically, Chia ($XCH). We'll walk through step by step how to set up your PC to mine using it's hard drives. In this guide, we will also review the pros and cons of mining with hard drives, potential mining profitability in bear and bull markets, and the token we are mining, Chia. We'll also hear from some of the VoskCoin community members on their thoughts on hard drive mining.

Timestamps


00:00 Turning your PC into a passive income machine!
01:45 Getting started with Chia XCH mining
05:16 Chia Official Beginner's Guide
07:29 Installing Chia Node software
08:41 Setting up a Chia mining pool
10:10 Installing an internal HDD for Chia mining
12:39 How to start plotting to your HDD
17:35 Potential issues with syncing the blockchain
21:42 How to use the Chia farming software
23:45 PC HDD Chia farming profitability
24:29 Syncing the Chia Node faster - Port Forwarding
25:26 Using Remote Plotting for HDDs
26:36 PC HDD mining profitability
28:53 Final thoughts on mining Chia from your PC
VoskCoin links - VoskCoin | Instagram, Facebook | Linktree
VoskCoin is for entertainment purposes only and is never intended to be financial investment advice. VoskCoin owns or has owned cryptocurrency and associated hardware. VoskCoin may receive donations or sponsorships in association with certain content creation. VoskCoin may receive compensation when affiliate/referral links are used. VoskCoin is home of the Doge Dad, VoskCoin is not your Dad, and thus VoskCoin is never liable for any decisions you make.
How to Earn Passive Income with Your Computer using HDDs!