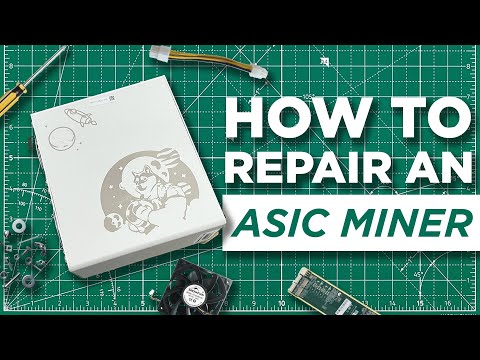 Have an ASIC miner that's not working and want to fix that mining rig? Let's walk through how to diagnose and repair an ASIC cryptocurrency miner, So you can get back to earning passive income mining! This is the BEST mining rig to buy - Evergreen
Subscribe! https://voskco.in/Sub
Use code VOSKCOIN to save money at evergreen and coinminingcentral
Buy affordable ASICs with CoinMiningCentral - Coin Mining Central - UK Cryptocurrency Mining Hardware Supplier
DxPool - https://voskco.in/dxpool
Get 50% off fees with ViaBTC - ViaBTC | Sign up
NEED REPLACEMENT GOLDSHELL PARTS? Contact them! https://www.goldshell.com/support-center/
Today we're going to walk through how to troubleshoot, diagnose, and repair a cryptocurrency ASIC miner. Specifically, we are working on a Goldshell CK Box Mini Miner, but if you have a goldshell mini doge that stopped working this process will be the exact same. Oftentimes with Bitmain Antminer ASIC miners not working they need a new fan on the miner or in the PSU power supply otherwise you need to likely swap out the control board on top which is basically what we are doing with this Goldshell box miner on a smaller scale. We'll walk through how to inspect the miner for damage, disassemble the miner, replace the miner control board, reassemble the miner, configure it to a pool, and get it back up and running! We'll also walkthrough how to re-configure your mining pool settings. Still having issues? Join the VoskCoin Discord Channel or post about it on VoskCoinTalk. We have an awesome community of cryptocurrency miners here to help!
Check out our full crypto mining electricity power guide - Bitcoin Crypto and GPU Mining Electricity Guide! - YouTube
How to set up an ASIC miner - How To Set Up an ASIC Miner - YouTube
ASIC Troubleshooting Document - https://www.goldshell.com/tutorial-profrssional-edition/
Goldshell light indicator page - Goldshell indicator light description – BT-Miners

Timestamps


00:00 I'm fixing this broken ASIC miner!
00:38 What happened to my CK-Box miner?
01:22 Inspecting the ASIC miner
02:13 Disassembling an ASIC miner
03:13 Replacing an ASIC miner control board
04:43 Reassembly
07:20 Setting up an ASIC mining pool
09:54 How to repair a broken ASIC miner!
Follow us on our official social media accounts! - VoskCoin | Twitter, Instagram, Facebook | Linktree
Subscribe to VoskCoin for more passive income tips! https://voskco.in/sub
Follow VoskCoin on TikTok for more shorts! https://voskco.in/tiktok
VoskCoin is for entertainment purposes only and is never intended to be financial investment advice. VoskCoin owns or has owned cryptocurrency and associated hardware. VoskCoin may receive donations or sponsorships in association with certain content creation. VoskCoin may receive compensation when affiliate/referral links are used. VoskCoin is home of the Doge Dad, VoskCoin is not your Dad, and thus VoskCoin is never liable for any decisions you make.
How to Fix an ASIC Miner