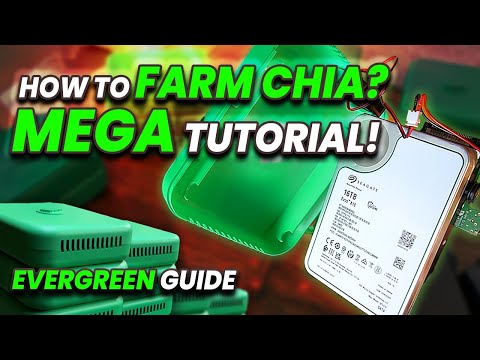 The Evergreen Miner is a plug and play Chia XCH Farmer, basically it is a hard drive cryptocurrency mining rig. Today I am going to show you how to set up your Evergreen Miner along with all the tips and tricks I've learned! My Evergreen mining rigs are earning over $120 a month now! Grab one! Evergreen
Learn more about the best mining rig to buy in 2023 - The Best Cryptocurrency Miner for 2023 | by Miss Vosk (Alexa) | VoskCoin | Feb, 2023 | Medium
Buy a Chia Mining Rig from Evergreen here - Evergreen
Save $15 with the coupon code VOSKCOIN!
Setting up an Evergreen miner is pretty easy especially compared to doing a DIY build your own Chia XCH farmer HDD mining rig BUT if you have never mined cryptocurrency before it is certainly daunting! Evergreen made their own app, evergreen mobile, and that makes this process a lot easier but even with a plug and play HDD miner, and an easy to use free app, I hit some obstacles myself! You'll need to secure your Chia wallet private key, there is also something called a farmer key in Chia mining, and if you add more than 1 miner to the same network you'll potentially run into some issues you have to work with. This is the video tutorial for setting up the Evergreen miner and ensuring you are getting the best Chia XCH farming mining profitability possible along with all the tips, tricks, and troubleshooting I have learned along the way!
Remember download EVG OS off their site here - Evergreen
Join the VoskCoin Discord for more HDD mining content! VoskCoin
Make a thread on VoskCoinTalk the harddrive mining forum! VoskCoinTalk - Best cryptocurrency & blockchain forum
Subscribe! VoskCoin - YouTube
I'm Making $60 A Month With HARDDRIVES! Evergreen miner review video - I'm Making $60 A Month With HARDDRIVES! - YouTube
Learn how to set up an ASIC miner - How To Set Up an ASIC Miner - YouTube
Prepare your home electricity for crypto mining and stay safe - Bitcoin Crypto and GPU Mining Electricity Guide! - YouTube

Timestamps


00:00 How to setup a Evergreen miner?
00:40 What is the evergreen miner made of?
02:02 Opening the Evergeen miner!
03:23 How much does a Evergreen miner cost?
05:00 Unboxing the Starter kit pro
05:44 How to download the Evergreen Mobile app
06:37 How to setup your own Chia wallet
08:03 How to setup your Evergeen account?
08:55 Write down your seed phrase!
06:36 What is a Chia farmers key?
10:56 How do you power the Evergreen miner?
13:52 How to get internet to your Evergeen miner
15:07 How to check if your miners are working?
18:10 Adding your evergreen miners to your network
20:12 How to setup your wallet to receive your mined coins
22:48 How to use Flexpool for Chia mining
25:35 Where to buy the Evergeen Chia Miner?
27:15 How many drives on a hub?
29:24 How to replace a Evergreen Miner case
33:27 Extremely quiet miners!
34:44 Linking your expansion drives to your existing miners
35:26 How much electricity does a Evergreen miner cost?
36:05 Are Evergeen miners plug and play?
38:00 Tails the Chia farmer
Follow us on our official social media accounts - VoskCoin | Twitter, Instagram, Facebook | Linktree
VoskCoin is for entertainment purposes only and is never intended to be financial investment advice. VoskCoin owns or has owned cryptocurrency and associated hardware. VoskCoin may receive donations or sponsorships in association with certain content creation. VoskCoin may receive compensation when affiliate/referral links are used. VoskCoin is home of the Doge Dad, VoskCoin is not your Dad, and thus VoskCoin is never liable for any decisions you make.
How To Set Up Evergreen Miner the BEST Chia XCH Farmer! Evergreen miner guide evergreen miner tutorial