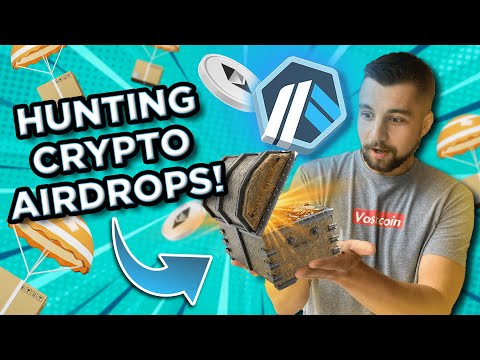 Hunting crypto airdrops is a lot of fun. Not only do you get to experience the thrill of the cryptocurrency hunt, but you also get an opportunity to be rewarded with thousands of dollars in passive income. Here's my strategy on how I hunt for airdrops, which has made me over $100k so far! Sub! https://voskco.in/Sub
Start your journey on the Arbitrum blockchain! - Arbitrum – Scaling Ethereum
Get tons of great sign up bonuses with FTX! - FTX.US & FTX Sign-Up Bonuses — $15 free, 5% off fees & FREE Crypto! - VoskCoin - Medium
Finding projects that airdrop free crypto coins is often like winning the lottery! But there's actually a formula that you can use to find these projects and take full advantage of them, ensuring you stand a chance to receive $1,000s worth of free coins. My airdrop hunting strategy is one that I've developed over many months, using previous airdrop eligibility to see what projects look for and thus take steps to maximize my own eligibility for new projects. With the Arbitrum blockchain ecosystem growing so rapidly, it's very likely that there will be more than a few coins that airdrop tokens, so let's look for some of these together!
Check out some of the other Layer 2 options:
Optimism OP layer 2 - Optimism
BNB Smart Chain bep20 best DEX - Biswap
Synthetix SNX website dapp - Synthetix
Uniswap decentralized exchange - Uniswap Interface
1inch DEX aggregator - 1inch - DeFi / DEX aggregator on Ethereum, Binance Smart Chain, Optimism, Polygon, Arbitrum

Timestamps


00:00 Let's hunt some airdrops on Arbitrum!
00:51 Bridging coins from ETH to Arbitrum
01:55 Arbitrum dApp #1
03:04 How to find crypto airdrops
04:34 Potential airdrop projects on Arbitrum!
08:32 Passive income on Hashflow
10:12 The VoskCoin airdrop strategy!
Follow us on our official social media accounts! - VoskCoin | Twitter, Instagram, YouTube, Facebook | Linktree
Subscribe to VoskCoin for more passive income tips! https://voskco.in/sub
Follow VoskCoin on TikTok for more shorts! TikTok
VoskCoin is for entertainment purposes only and is never intended to be financial investment advice. VoskCoin owns or has owned cryptocurrency and associated hardware. VoskCoin may receive donations or sponsorships in association with certain content creation. VoskCoin may receive compensation when affiliate/referral links are used. VoskCoin is home of the Doge Dad, VoskCoin is not your Dad, and thus VoskCoin is never liable for any decisions you make.
Hunting Crypto Airdrops on the Arbitrum Blockchain!