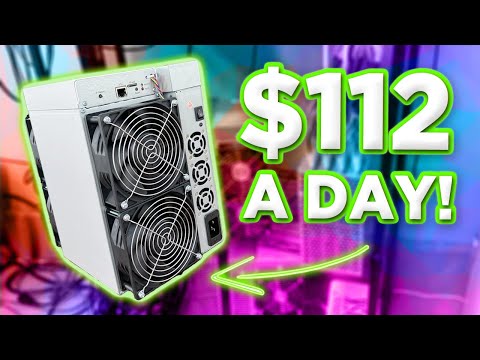 The Goldshell KD6 Kadena miner is one of the MOST profitable ASIC miners in the world! How much does it make in 1 day, and what are the real-world mining stats? Is it actually worth buying the most profitable miner in the world?! Subscribe to VoskCoin for more! http://voskco.in/Sub
Buy the Goldshell KD6 here from BigSky ASICS - Home - Big Sky Asics
use code VOSKCOIN to save some money!
Buy a USED Kadena KDA miner here - kadena miner: Search Result | eBay
DXPOOL is the best Kadena KDA mining pool in 2022 - DxPool, Worry-free mining
Start your crypto MMORPG journey with Forgotten Chain - voskcoin forgotten chain link
This is the best mining rig you can buy in 2022 - https://voskco.in/b300
Earning passive income mining crypto is an amazing opportunity, and with this miner you could be making over $100 a day in passive income! The Goldshell KD6 is the most profitable crypto miner you can buy right now, but is it worth the huge price tag? What am I earning per day mining with the KD6? The Goldshell KD6 is supposed to make over $30,000 per year! Today I review the KD6 Kadena KDA ASIC miner and find out just how profitable the world's most profitable crypto miner really is!
1inch DEX aggregator - 1inch - DeFi / DEX aggregator on Ethereum, Binance Smart Chain, Optimism, Polygon, Arbitrum
Goldshell official ASIC miner shop! https://voskco.in/goldshell
My initial review of the Goldshell KD6 - New Miner Earning $260 A DAY! Worth it? - YouTube
Take a look at this MINI Kadena miner! - MINI MINER that's QUIET and PROFITABLE! KD-BOX Review - YouTube
How to set up an ASIC miner - How To Set Up an ASIC Miner - YouTube
Should you mine crypto in 2022? Find out! - Should You Mine Crypto in 2022? - YouTube

Timestamps


00:00 The most profitable mining rig you can buy!
02:07 Kadena miners are extremely profitable
03:00 A new generation of Kadena miners
04:12 How to setup the Goldshell KD6
05:46 How much is the KD6 supposed to make?
09:01 How much did my KD6 make in 24 hours?
10:04 The Kadena ecosystem growth
10:32 The importance of DeFi
13:15 Price prediction KDA Kadena - Dump or Hodl?
15:33 Choosing the right Kadena Miner for you
17:29 The most expensive and profitable miner there is!
18:00 Return on Investment?
19:03 Will KDA hit its all time high again?
VoskCoinTalk the VoskCoin forum - VoskCoinTalk - Best cryptocurrency & blockchain forum
VoskCoin Facebook - Redirecting...
VoskCoin Reddit - https://www.reddit.com/r/voskcoin/
VoskCoin Discord Server Invite - VoskCoin
VoskCoin Twitter - https://twitter.com/VoskCoin
VoskCoin Instagram - Login • Instagram
VoskCoin is for entertainment purposes only and is never intended to be financial investment advice. VoskCoin owns or has owned cryptocurrency and associated hardware. VoskCoin may receive donations or sponsorships in association with certain content creation. VoskCoin may receive compensation when affiliate/referral links are used. VoskCoin is home of the Doge Dad, VoskCoin is not your Dad, and thus VoskCoin is never liable for any decisions you make.
I Bought The MOST PROFITABLE Miner in the World!