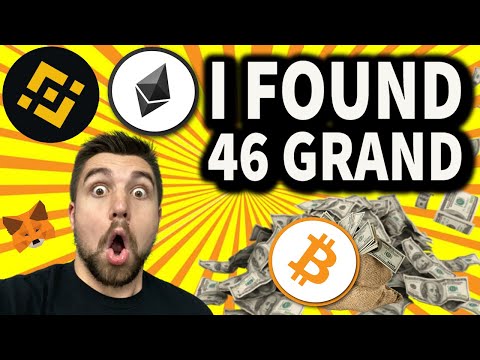 I found $46,000 inside of my cryptocurrency wallet, crypto coins and tokens I had never bought they were just sent to me. Let's see if this is a SCAM or if I can cash them out for DOLLARS! Subscribe to VoskCoin - http://voskco.in/Sub
Get $25 for free that's not a scam w/ CryptoCom https://voskco.in/cryptocom
Use the code VOSKCOIN to unlock the sign-up bonus
Compass sells miners that make money - https://voskco.in/compass
My BSC and ETH address - 0xf6c3c3621f42ec1f1cd1207bb1571d93646ab29a
I have made a lot of videos about cryptocurrencies and tokens, and my wallet address was shown in those videos. I just found some tokens in my wallet worth over $46,000 dollars YEAH 46 grand in my wallet I never bought!! I am going to try to sell these cryptocurrency coins for Bitcoin or Binance coins or Ethereum and then eventually dollars to make this a reality but is free money really a thing?? Is this a scam because I have heard of scam tokens showing up in crypto wallets before, especially BSC binance smart chain tokens bep20 tokens. is theever.io and everfin.co tokens a scam or the biggest airdrop for crypto investors?!
Learn more about scamdrops and how to protect yourself - TheEver.io (EVER) crypto token airdrop - What to do - Scamdrop | CoinMarketBag
Links!
My crypto wallet address on BSCscan - Address 0xf6c3c3621f42ec1f1cd1207bb1571d93646ab29a | BscScan
Poocoin is a BSC token tracker - https://voskco.in/cebc16
Metamask review and tutorial 2021 - MetaMask Guide | BEST Ethereum Wallet for DApps and Smart Contracts - YouTube
Trustwallet makes DeFi on the Binance Smart Chain easy - https://youtu.be/QKQbAke6f5g

Timestamps


00:00 I found 46k in Ever token
01:21 There's a lot of scam coins out there
02:29 Someone put 100k of crypto in my wallet?
03:44 Checking tokens on BscScan
6:30 Testing out EverFin.co
07:33 Why they tried stealing my Sushi
08:12 Ever token on PancakeSwap
09:00 How the scam works
10:18 Free 46k too good to be true?
VoskCoinTalk the VoskCoin forum - http://voskco.in/forum
VoskCoin Facebook - Redirecting...
VoskCoin Reddit - https://www.reddit.com/r/voskcoin/
VoskCoin Discord Server Invite - http://voskco.in/discord
VoskCoin Twitter - https://twitter.com/VoskCoin
VoskCoin Instagram - https://www.instagram.com/voskcoin/
VoskCoin is for entertainment purposes only and is never intended to be financial investment advice. VoskCoin owns or has owned cryptocurrency and associated hardware. VoskCoin may receive donations or sponsorships in association with certain content creation. VoskCoin may receive compensation when affiliate/referral links are used. VoskCoin is home of the Doge Dad, VoskCoin is not your Dad, and thus VoskCoin is never liable for any decisions you make.
I Found $46,000?!