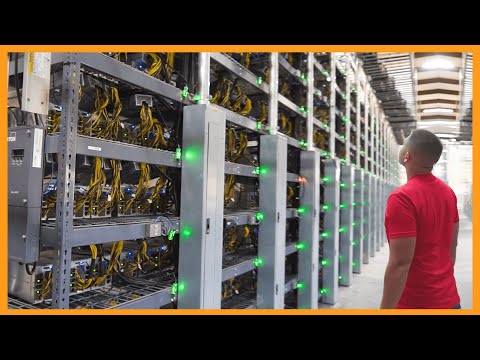 Today we are walking through a billion-dollar Bitcoin mining farm, that mines millions of Bitcoins, and other cryptocurrencies, but unfortunately for Core Scientific and CORZ investors, a crypto bear market hit… Subscribe! https://voskco.in/Sub
This is the most profitable cheap miner to buy right now! https://voskco.in/egm
Deeper in the mines a VoskCoin mining farm tour series - https://youtube.com/playlist?list=PL4dnwHTjcf-8SXMDAoL7-XFkV6b4XUH3j
Watch the full journey building out my mining farm here (playlist) - https://www.youtube.com/playlist?list=PL4dnwHTjcf-9qfOEekcjPwqJqgkO455f-
Core Scientific turned millions of dollars of cash, into millions of Bitcoin and a billion-dollar stock CORZ, Core Scientific has multiple mind-blowing Bitcoin and Crypto mining farm facilities, but rapid expansion along with luxurious spending led to Core Scientific running out of cash, even after they liquidated all of their Bitcoin leaving CORZ stock investors in shambles… Here's an exclusive VoskCoin Deeper In The Mines Mining Farm Tour video walkthrough and interview with Core Scientific Mining, learn more about CORZ mining farm!
Learn more about Core Scientific CORZ here - Core Scientific - Infrastructure to Power the World's New Financial System | A leader in high-performance blockchain infrastructure and software solutions.
Core Scientific CORZ stock information - CORE SCIENTIFIC: CORZQ Stock Price Quote & News | Robinhood
Drew Vosk toured the Marble North Carolina and Dalton Georgia Core Scientific mining farms in 2019, and VoskCoin had planned to go do a video tour of the Core Scientific Kentucky Bitcoin mining farm in 2020 but unfortunately, that plan fell through due to the global situation at that time. What are your thoughts on the Core Scientific CORZ BTC crypto mining farm? Share in the comments!

Timestamps


00:00 Core Scientific: Billions to Bankrupt
03:04 Core Scientific Dalton Georgia facility tour
04:00 Technician's office
05:50 Production floor
09:29 Second field building
13:30 Facility power distribution
14:20 Third field building
15:25 New miner deployment & construction
17:10 Electrical setup
18:06 Measuring power consumption
20:07 Technicians & networking
22:15 AI aisle electrical equipment
23:37 AI aisle data centre
25:09 In-house miner repair centre
26:40 Office space & monitoring
28:16 VoskCoin Core Scientific Dalton tour
Follow us on our official social media accounts - VoskCoin | Twitter, Instagram, Facebook | Linktree
VoskCoin is for entertainment purposes only and is never intended to be financial investment advice. VoskCoin owns or has owned cryptocurrency and associated hardware. VoskCoin may receive donations or sponsorships in association with certain content creation. VoskCoin may receive compensation when affiliate/referral links are used. VoskCoin is home of the Doge Dad, VoskCoin is not your Dad, and thus VoskCoin is never liable for any decisions you make.
Inside a Billion Dollar Bitcoin Mining Farm!