FPGA mining is like GPU mining on steroids but is FPGA mining more profitable than GPU mining?! Let's review FPGA mining and if mining cryptocurrencies with FPGAs is better than GPUs, CPUs, and ASIC mining rigs. Subscribe to VoskCoin - http://voskco.in/Sub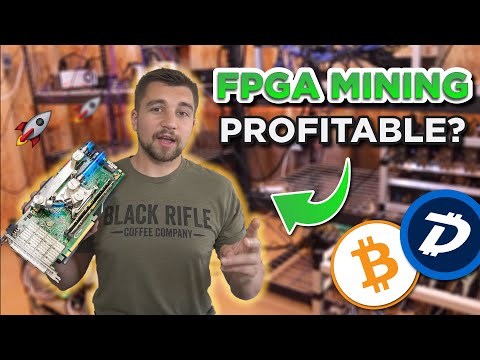 Review the BEST Helium hotspot miners to buy - What is the BEST Helium Hotspot Miner to Buy? | by VoskCoin | VoskCoin | Apr, 2021 | Medium
Spoiler the Bobcat miner is the BEST HNT miner!
I've been mining cryptocurrencies full-time for over 4 years and FPGA mining has always been the super profitable form of mining that is hard to actually achieve. Acquiring FPGA mining rigs and FPGA cards for mining like the bcu-1525 and cvp-13 as well as unique cards like the SQRL FPGA devices always felt like a scavenge hunt, and even after you finally get the FPGA miners, you need unique bitstreams to mine different cryptocurrencies and some FPGA developers are more talented and create much more powerful bitstreams than other devs so now you have to buy bitstreams that also probably have a dev. fee built-in. Hashaltcoin really changed the FPGA mining game with their Hashaltcoin blackminers and Baikalminer did a similar thing earlier, but their customer service was beyond atrocious so uh… let's review FPGA mining and if mining is still profitable and if mining is still worth it!
Reviewing the easy to use FPGA mining rig - Finally an EASY TO USE FPGA Mining Rig!!! TPS-1530 VU9P Review - YouTube
If you want to get into crypto mining Helium mining is the best and you can learn more about the best HNT mining rig here - Bobcat Miner 300 - The BEST Helium Miner?? $5-100+ PER DAY?! - YouTube

Timestamps


00:00 Is FPGA mining dead in 2021?
02:03 Differences between FPGA mining & ASIC mining
05:13 Why did FPGA mining lose popularity?
06:50 History of FPGA miners
08:48 AMC Token is bringing MMA to the blockchain
09:33 Can you buy FPGA miners today?
10:40 FPGA mining profitability
12:38 Should I mine with FPGA miners?
13:29 Is FPGA mining worth it?
VoskCoinTalk the VoskCoin forum - http://voskco.in/forum
VoskCoin Facebook - VoskCoin
VoskCoin Reddit - https://www.reddit.com/r/voskcoin/
VoskCoin Discord Server Invite - http://voskco.in/discord
VoskCoin Twitter - https://twitter.com/VoskCoin
VoskCoin Instagram - https://www.instagram.com/voskcoin/
VoskCoin is for entertainment purposes only and is never intended to be financial investment advice. VoskCoin owns or has owned cryptocurrency and associated hardware. VoskCoin may receive donations or sponsorships in association with certain content creation. VoskCoin may receive compensation when affiliate/referral links are used. VoskCoin is home of the Doge Dad, VoskCoin is not your Dad, and thus VoskCoin is never liable for any decisions you make.
FPGA mining profitable and worth it in 2021 review