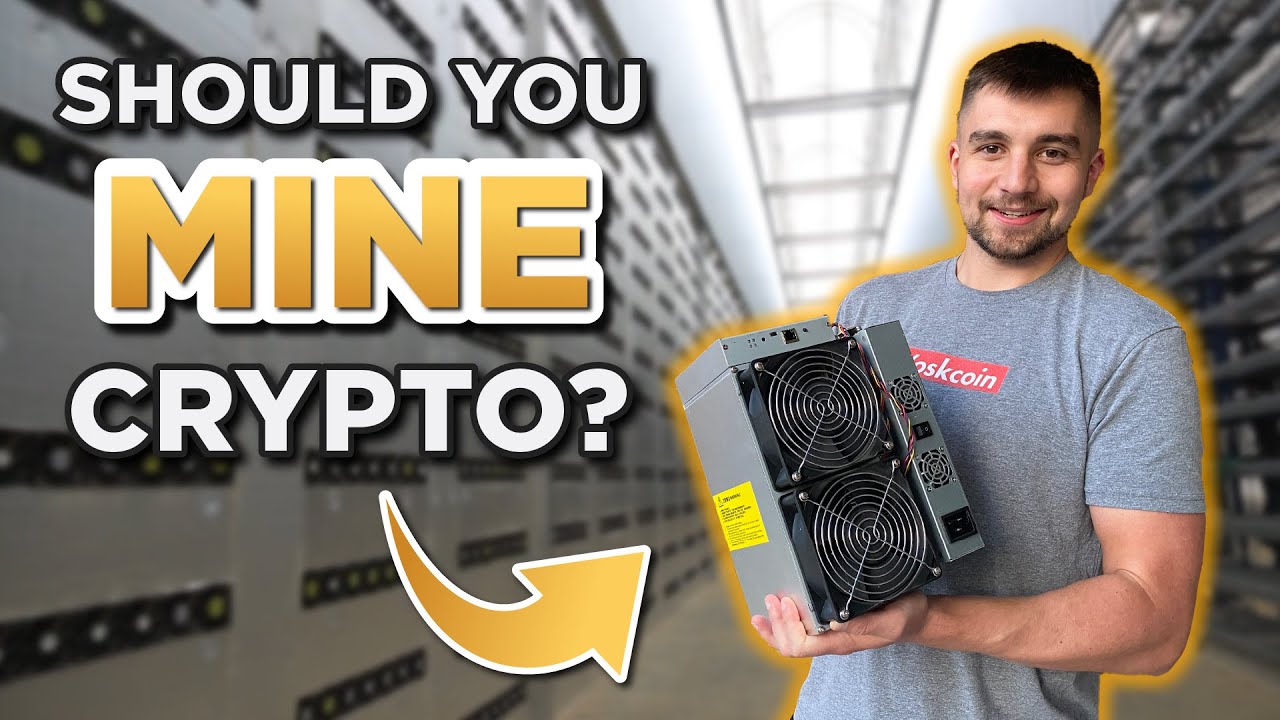 Bitcoin mining is more profitable than ever, and GPU mining Ethereum is more profitable than ever – BUT is it still actually worth it to buy a crypto mining rig?! Let's review if you should buy a miner!
Subscribe to VoskCoin - http://voskco.in/Sub
Review the BEST Helium miners to buy - https://medium.com/voskcoin/what-is-the-best-helium-hotspot-miner-to-buy-e26f3f4a0c37
Compass sells Bitcoin miners! https://voskco.in/compass
You can buy GPUs for GPU mining here - https://geni.us/nuVz
Get $250 free and earn passive income with crypto - https://voskco.in/blockfi
I started mining cryptocurrency full-time 4 years ago, I mine Bitcoin, I mine Ethereum, I mine other cryptocurrencies including mining Dogecoin! Recently I also started mining Helium with HNT hotspot miners that use no electricity and don't even make any noise! Mining is the best way to earn passive income, but with mining being more profitable than ever before everyone seems to want to buy a crypto mining rig driving the prices up. Bitcoin miners make a lot of money, and have increased a lot in price. Newer and more powerful Ethereum miners are being created, these ETH mining rigs make more money but are also very high priced! DOGE has skyrocketed in price, and it is merge mined with Litecoin, so scrypt Dogecoin miners are more profitable than ever, and are now harder to buy! Helium hotspot mining is really refreshing because these little miners are small, silent, and can make well over $50 per day and even after doubling in price they still only cost ~$500 but they are also hard to buy because everyone is trying to buy a mining rig right now! Let's review if mining is still worth it, how to determine the best miner to buy, and how I have been successful buying mining rigs for years and simply getting a great ROI or return on investment with these miners!
Links!
Reviewing the best Bitcoin miner to buy - https://www.youtube.com/watch?v=E5u7iiPsWc4
Reviewing the best Dogecoin miner to buy - https://www.youtube.com/watch?v=cXgqVcY5ErQ
Reviewing the best Ethereum miner to buy - https://www.youtube.com/watch?v=rNxwavshr6A
Reviewing the best Helium miner to buy - https://www.youtube.com/watch?v=ddfQA4Ubg6A

Timestamps


00:00 Reviewing years of mining Bitcoin and Ethereum crypto
01:33 Should you mine Bitcoin & other crypto in 2021?
04:34 Scammers & official VoskCoin giveaways
05:06 How does cryptocurrency mining work? Is it worth it?
07:35 The value of ASIC and GPU mining
08:51 Earning passive income on my coins & $250 free
09:52 Should you buy a mining rig? Best miners to buy
10:42 Mining rigs are a great investment??
11:34 Mining crypto to hedge risk
12:23 When should you buy a Bitcoin miner or crypto mining rig
15:10 Earning passive income mining Bitcoin, Ethereum, and other crypto
16:33 How to power mining rigs, and cool mining rigs
18:39 Mining Bitcoin, Ethereum and other crypto was the best investment for me
VoskCoinTalk the VoskCoin forum - http://voskco.in/forum
VoskCoin Facebook - https://www.facebook.com/VoskCoin/
VoskCoin Reddit - https://www.reddit.com/r/voskcoin/
VoskCoin Discord Server Invite - http://voskco.in/discord
VoskCoin Twitter - https://twitter.com/VoskCoin
VoskCoin Instagram - https://www.instagram.com/voskcoin/
VoskCoin is for entertainment purposes only and is never intended to be financial investment advice. VoskCoin owns or has owned cryptocurrency and associated hardware. VoskCoin may receive donations or sponsorships in association with certain content creation. VoskCoin may receive compensation when affiliate/referral links are used. VoskCoin is home of the Doge Dad, VoskCoin is not your Dad, and thus VoskCoin is never liable for any decisions you make.
Is Bitcoin mining still worth it? & crypto mining?