I would not recommend. If there is one thing i have learned here it is that you should only buy asic miners directly from the manufacturer, and if they don't have anything in stock, you'd better wait.
I can vouch for @Zhichao he has miners and will fulfill orders he did for my order
Does your word actually mean anything? I mean you vouched for Steven for months…
He told me about it. If something goes wrong, he is also a victim,You buy it with me ,I have all of them in stock. I won't let you wait for months
Buying from several others and me getting my orders in from suppliers should mean something if I'm currently mining with the equipment I have. But again that's just me stating that I vouch for who I have received my orders from and am currently mining present time
So it looks legit…I asked him to post pics of the product I'm looking for with a piece of paper with my username PokerSmurf…I'm looking to buy in about 2 weeks may try to use him…I'm still on the fence since I have been scammed before…hmm
Yes, it is ok , that's no matter, I can wait you , when you need make order, you can contact me
Yea was thinking same thing at no point can I trust him after that mess
I sold X4 520m to Mike. He received it and thought my service was very good, so he recommended me. There may be something wrong with his previous seller, so he bought it from me,
Yea there was a lot wrong with other sell that he vouched for and fought for that guy stole over a half million dollor from 30 people on here alone so most of smart people won't trust him and then since he vouching for u seem like same play as before
Didn't you call the police? He didn't receive his KD6 either. Did you still get in touch with the seller?
See now it even gets more fisher that all went down before kd6 were even talked about and yea there 30 plus people reported to police and most took mike vouch for the guy and now it you just fishy
I didn't even say anything about paying. but still you show so many red flags one your picture is of a fish no company logo nothing. Two when u click on your name nothing comes up as a company website nothing. Click on some other and you get website and 90% there pictures is of there company even my pic is even my company logo. Three if u have that many clients y u pushing so hard then what u would get on here is small fish? And for last the only people vouching for u have been caught up in that other scam either they got scammed or the guy that vouched for the scammer. So in my opinion no right minded person would take that much of a risk when there are plent other reseller on here that have way more credit and are definitely legit just name some (desertvalleyasic ,asicminerdepot then you got Ann from apexto that's just naming a few)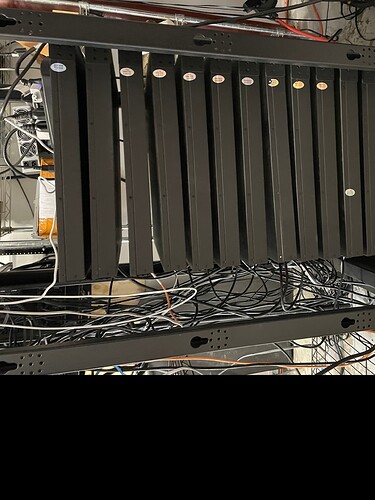 He will fulfill orders
@Zhichao is good about giving updates on orders once payment clears too

Truthfully anything you show has no credibility here my opinion you vouched with pictures like this with master and no offense this is how it all started with master
All good, just sharing my experience with who I been buying my miners from to present time and been growing my 3 separate mining locations, @Carl_Canady got to see it in person