Is this the next big DeFi crypto coin that's launching on Uniswap with huge yield farm gains to be had?? Maybe! Let's review how I am putting my crypto coins to work by yield farming and liquidity mining this new DeFi coin! Sub to VoskCoin - http://voskco.in/Sub
Velotoken VLO a DeFi coin experiment on velocity - http://voskco.in/velo
Watch the best video guide on how to use MetaMask by VoskCoin - https://www.youtube.com/watch?v=Fe4whcn-s88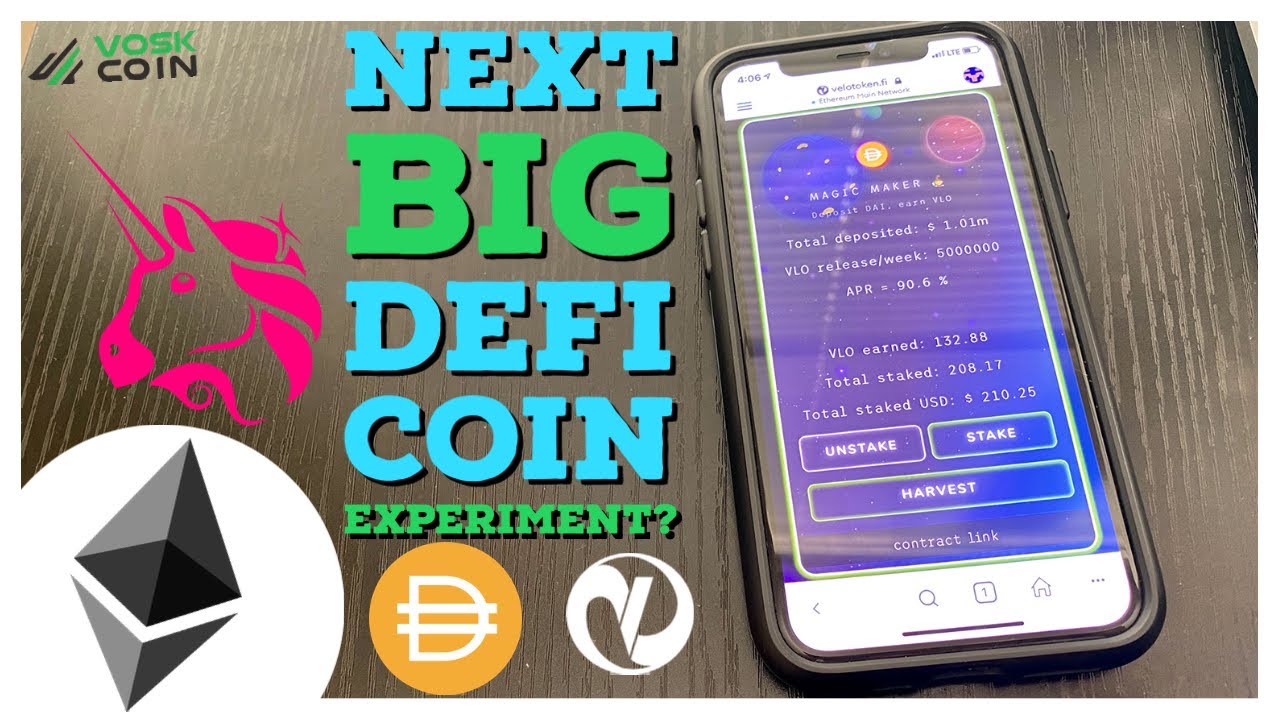 Decentralized Finance has become an incredibly interesting and potentially profitable piece of cryptocurrency and blockchain this year! People are always asking what is the next big Uniswap coin or the best DeFi coins or the next best coin for yield farming or how to make money liquidity mining, well Velotoken is the latest release on DeFi experiment crypto coins AND they DO NOT have a lock-up period with their coin. The Velotoken Uniswap Ethereum pairing has over $100,000 worth of liquidity already, there is also yield farming associated with this liquidity pool, but will this coin be able to maintain interest after their extremely quick yield farming period ends and all of their coins are distributed?! No one knows, so let's review everything we do know about Velotoken and yield farming this hot new DeFi coin!
Links!
Velotoken Ethereum VLO-ETH Uniswap pair - http://voskco.in/vlo0
Yam Finance a DeFi cryptocurrency experiment - http://voskco.in/DV3j
Velocity centric cryptocurrency experiment launches - http://voskco.in/SodD
Debank DeFi ethereum tracker wallet - http://voskco.in/debank0
Yield farming liquidity mining DeFi experiment - http://voskco.in/Q3WQ
Velotoken combines ampleforth compound and yam - http://voskco.in/hSch
VoskCoin Facebook - https://www.facebook.com/VoskCoin/
VoskCoin Reddit - https://www.reddit.com/r/voskcoin/
VoskCoin Discord Server Invite - http://voskco.in/discord
VoskCoin Twitter - https://twitter.com/VoskCoin
VoskCoin Instagram - https://www.instagram.com/voskcoin/
VoskCoin is for entertainment purposes only and is never intended to be financial investment advice. VoskCoin owns or has owned cryptocurrency and associated hardware. VoskCoin may receive donations or sponsorships in association with certain content creation. VoskCoin may receive compensation when affiliate/referral links are used. VoskCoin is home of the Doge Dad, VoskCoin is not your Dad, and thus VoskCoin is never liable for any decisions you make.