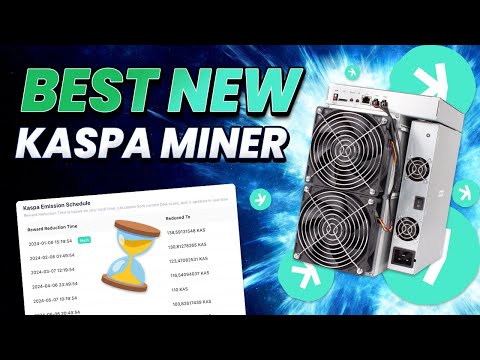 The Windminer K9 Kaspa Miner is out! Let's review if this miner is real, what the specs look like, where you can buy the K9, and review our current Kaspa mining profitability with our other Kaspa Miners. Subscribe for more! http://voskco.in/Sub
These ASIC resellers have Kaspa Miners!
AsicMarketplace - https://voskco.in/am
CoinMiningCentral - Coin Mining Central - UK Cryptocurrency Mining Hardware Supplier
MillionMiner - https://voskco.in/mmde
Use Code VOSKCOIN to Save with all of these ASIC Resellers!
The Wind Miner K9 picture from Aozhiminer - https://twitter.com/VoskCoin/status/1720112955868561661
There were a lot of rumors about the Kaspa Wind Miner K9 cryptocurrency miner. It's currently posted on several ASIC reseller websites, but all of them are throwing around very different specs. Is the K9 even real? Let's talk about the WindMiner K9, its profitability, mining specs, where you can order one, and where you can mine with Kaspa. We'll also walk through other Kaspa mining alternatives, and review our current mining profitability with the KS0, KS1, KS2, and the KS3M Kaspa Miners.
Check out our Crypto Electricity Guide! - https://youtu.be/eZi_yx_koXc?si=ON9cytYygb0aQdzE
How to Set Up an ASIC Miner - https://youtu.be/8XNQ4lP7PIc?si=pnu14CqfOBLY7cs6
Turn your Kaspa into BTC with Nicehash - NiceHash - Leading Cryptocurrency Platform for Mining and Trading

Timestamps


00:00 Kaspa mining is crazy!
01:16 Where to buy the Windminer K9
02:00 What is the Kaspa cryptocurrency?
03:44 Is this miner even real?
04:31 Kaspa Hashrate is climbing!
05:00 What Kaspa ASIC miner do I have?
06:10 What is Iceriver?
07:30 Bitmain also has an ASIC miner
08:52 Mining Kaspa with the Iceriver crypto miners
09:53 Mining Kaspa on Nicehash
11:40 How many coins am I mining with my miners?
12:39 What miner should you buy?
14:03 Is this too risky?
15:13 Tails wants to know, do you mine Kaspa?
VoskCoin social media, forum, and Discord - VoskCoin | Instagram, Facebook | Linktree
VoskCoin is for entertainment purposes only and is never intended to be financial investment advice. VoskCoin owns or has owned cryptocurrency and associated hardware. VoskCoin may receive donations or sponsorships in association with certain content creation. VoskCoin may receive compensation when affiliate/referral links are used. VoskCoin is home of the Doge Dad, VoskCoin is not your Dad, and thus VoskCoin is never liable for any decisions you make.
Is This Wind Miner K9 The BEST NEW KASPA Miner??