According to EarthWeb.com, over 333 billion emails are sent per day, and that number continues to rise. That's 3.5 million emails per second, making email the most used communication for business. But how much of your inbox is spam or ads? Email is one of the cheapest marketing tactics companies use, which is one reason why your inbox might be flooded. EarthWeb.com says 85% of all emails are spam, and Google alone blocks over 100 million spam emails daily.

Source: https://www.radicati.com/wp/wp-content/uploads/2015/02/Email-Statistics-Report-2015-2019-Executive-Summary.pdf
Is your email really "free?"
There are a lot of "free" email services out there like Gmail, Outlook, and Yahoo Mail, but are they really free when these companies can sell your data to outside sources? Consumers may not be paying money to use these services, but they're paying the price of their data being sold.
It's clear privacy and security are the pillars of any successful tech company these days, but especially in the cryptocurrency industry. As cryptocurrency assets reside in the digital world and the space boasts anonymity, users have to value and protect their privacy and data protection more than ever, especially over email.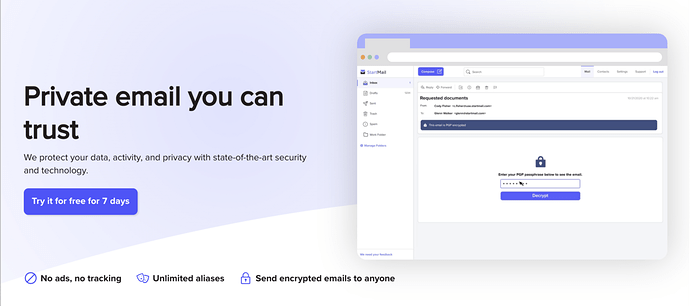 StartMail: Private Email You Can Trust
If you're looking for a truly secure and private email service that won't sell your data and information, check out StartMail. StartMail is a secure email service that protects your data, privacy, and activity. Their service has no access to your emails or your data, ensuring total privacy between you and the recipients of your emails. StartMail doesn't track your email activity, serve you ads, or sell your data.
They also have features like extra-secure data storage, unlimited disposable alias email addresses, and one-click encryption messages that can be sent to anyone. StartMail also has features that automatically block tracking pixels in emails, which protects users from being tracked across websites and can reduce the risk of phishing and spam, which are common malicious tactics scammers use in the crypto space. As you can see, VoskCoin itself has been the target of phishing and spoofing.
The Background & Security of StartMail
StartMail was built by the founders of Startpage, which is a private search engine plugin that restricts personal data collection, tracking, and targeting while offering anonymous viewing features to its users.
StartMail's data center, which is located in the Netherlands, is ISO 27001 Certified, and complies with the EU's General Data Protection Regulation (GDPR), which are some of the world's strictest privacy regulations.
TechRadar gave StartMail a 4.5/5.0 star rating saying it was easy to use, affordable, and offered multiple aliases, however the few downsides the service has are that it requires payment details for their free trial, and they don't currently offer a monthly payment option. All of their plans are billed annually so you are committing to one year when you sign up (after the seven day trial).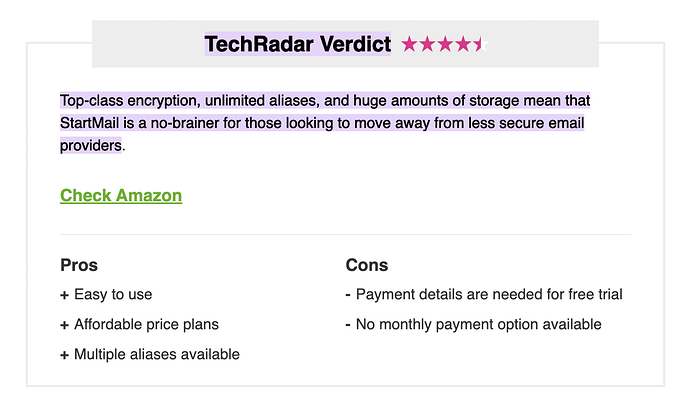 Get 50% off your first year with StartMail's Summer Sale!
By using StartMail users can ensure their email privacy is protected. StartMail currently offers two payment plans: Personal Plan and Custom Domain Plan. At the time of writing this article, their Personal Plan is typically $5/month, billed annually ($60/year). This includes an email address, 10GB of storage, unlimited aliases, multi-device access, and a contact import. Their Custom Domain Plan option is $5.85/month (~$70/year), which has the same options as the Personal Plan but also includes a personal domain.
StartMail is currently offering a Summer Sale where users can get 50% off their first year with StartMail. Their Personal Plan would be just $2.50/month ($29.99/year) billed annually, which also includes an additional free seven-day trial. Try StartMail today and let us know what you think in the comments!
Thank you to StartMail for sponsoring this article. Please do your own research before using any platform, and make sure to subscribe to the VoskCoin YouTube Channel to stay up to date on the latest cryptocurrency news and reviews.