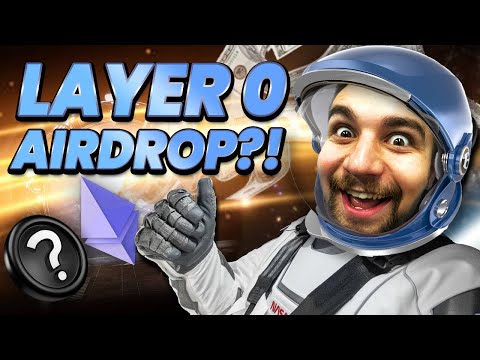 Many people are focused on Layer 2 cryptocurrencies like Arbitrum ARB, but Layer 0 and their incoming Zero token airdrop is probably the next big blockchain in cryptocurrency. Many crypto users have already used Layer Zero and didn't even know it! Here's how to try to become eligible for the next big crypto airdrop! Buy the best mining rig in 2023 here - Evergreen
Buy an Evergreen Miner Chia farmer here - Evergreen
Earn Money Mining with Crypto Miner Bros! https://voskco.in/cmb
Learn more about the best miner to buy right now - The Best Cryptocurrency Miner for 2023 | by Miss Vosk (Alexa) | VoskCoin | Medium
Layer Zero Network - https://layerzero.network/
Stargate Finance Layer Zero bridge - https://stargate.finance/
Ethereum is failing to scale, just today I wasted $40 of ETH on a single transaction so Ethereum scaling solutions like Layer Zero really interest me. Layer 0 is a huge airdrop hunt, but it's also just really useful blockchain technology for example we are already using Layer Zero when we are bridging cryptocurrencies across blockchains with Stargate Bridge powered by their STG tokens. Let's review what is Layer Zero, how to use Layer Zero and how to hunt this Layer 0 crypto airdrop!
VoskCoin Metamask guide - MetaMask Guide | BEST Ethereum Wallet for DApps and Smart Contracts - YouTube
VoskCoin StarkNet Argent X wallet guide tutorial - StarkNet Wallet Guide - Argent X - YouTube
STARKNET LINKS full list to hunt the airdrop! StarkNet airdrop hunting links
Defillama official link - DefiLlama - DeFi Dashboard
Zk sync era tutorial airdrop video - zkSync - NEXT BIG CRYPTO AIRDROP & Ethereum Layer 2 Token! - YouTube
Arbitrum ARB cryptocurrency review - This Crypto Will Be Worth OVER 1 Billion USD Market Cap... - YouTube

Timestamps


00:00 What are the different Layers of EVM crypto?
01:33 Layer 0 doing an airdrop?
03:12 What is Layer 0?
04:17 Using Stargate Finance on Layer 0
06:27 How to get the STG token?
07:33 Staking the STG token
09:07 How to increase your probability to get the airdrop
10:30 The Stargate finance Token and different protocols
13:11 Layer zero is a way to bridge and trade between different layer 2 protocols
14:00 Different Arbitrary Messaging Bridges
15:15 The Layer0 ecosystem
17:00 Using Rage trade or not
18:00 Venus adding omnichain support
18:46 OmniDoge Tails
Follow us on our official social media accounts! - VoskCoin | Twitter, Instagram, Facebook | Linktree
Subscribe to VoskCoin for more passive income tips! VoskCoin - YouTube
Follow VoskCoin on TikTok for more shorts! VoskCoin (@voskcoin) | TikTok
VoskCoin is for entertainment purposes only and is never intended to be financial investment advice. VoskCoin owns or has owned cryptocurrency and associated hardware. VoskCoin may receive donations or sponsorships in association with certain content creation. VoskCoin may receive compensation when affiliate/referral links are used. VoskCoin is home of the Doge Dad, VoskCoin is not your Dad, and thus VoskCoin is never liable for any decisions you make.
Layer Zero Airdrop Alert! Layer Zero Airdrop Eligibility Guide