Would you like to earn money in your sleep? Who wouldn't right? HoneyGain is the platform that allows you to sell excess internet you have for a price. This is for the computers which run 24x7 during your mining process.
In a nutshell Honeygain is a passive income app that allows you to earn an income from unused excess internet. Simply put, it lets you sell your internet to them for real cash.
How much money can you earn with Honeygain?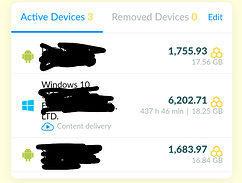 Let's look at the amount you can get with Honeygain before the review.
This totally depends on the following 4 things:
Which location you are based out of. Someone in Europe will make more money than someone in India as server costs are higher in Europe
Number of Laptops/PCs and mobiles you have installed it on
The different IPs you have that can have machines running
How fast your internet and computers are. The processing power does matter
Earlier, I was using Honeygain on 2 mobiles (running full time) and 1 laptop (not running full time, it runs for about 10 hours a day) for the past 6 months. I constantly make about $0.1 to $0.2 per day.
In India that is about Rs.7.5 to Rs.15 per day. This in total costs me about 50 GB of data a month. Which is nothing compared to the Unlimited Data my Internet Service provider gives me for Rs.699 a month. So if you do that math, I pay Rs.699 for internet and I get back about Rs.225 for selling a small amount of net that usually goes for waste, on Honeygain app. This is an absolute deal!
I have used every app there is that claims to pay you for using them. You can call me a passive income hunter!
Having used the honey gain platform for over a year and earned from it too, I have never come across any issues what so ever. Dosen't mean this is the sign of safety. Just that it is comparatively safer than most other applications that promise you income.
Minimum payment
Minimum payout is $20 to your wallet. So once you have accumulated $20 you reach the Honeygain cashout point. Raise a request from the app's dashboard, under Honeygain earnings section to get your money.
Being a reader of VoskCoinTalk has it's perks.
Sign up with my referral link below and get $5 in your Honeygain Wallet as soon as you log in for the first time. So your first 5 bucks is on us if you use my referral code!!!
It also helps me out to bring more content like this
I hope this comprehensive Honeygain review helps you get started to earn some real money by doing absolutely nothign. Now that is what I call Passive Income!