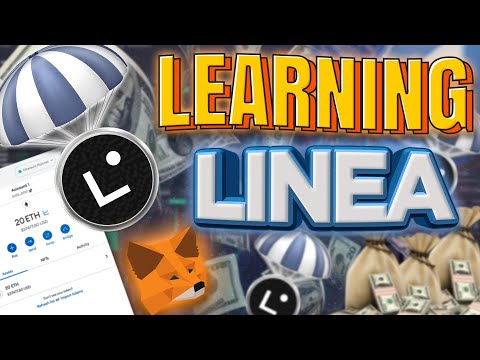 If you're looking for the next Arbitrum ARB it's right here, it's Linea, a layer 2 blockchain for scaling ethereum built by Consensys the company that raised 1 billion dollars and also built Metamask! Buy the best miner for 2023 here - Evergreen
Claim testnet Ethereum and Matic here - https://voskco.in/goerliF
Get $100 for free on Alchemy - Alchemy - the web3 development platform
Learn more about the best miner to buy right now - The Best Cryptocurrency Miner for 2023 | by Miss Vosk (Alexa) | VoskCoin | Medium
Buy an Evergreen Miner Chia farmer here - Evergreen
Most people don't even know about Linea yet… if you're reading this then you are on the cutting edge of cryptocurrency technology and knowledge. Today I'll show you what Linea is, and why this new layer 2 blockchain is set to be the next big blockchain because of its billion dollar consensys backing, remember this is the company that created Metamask which is the leading defi, web 3.0, ethereum, evm, basically crypto anything wallet! A Linea airdrop isn't likely, it is nearly guaranteed, especially after they launched their Galxe campaign! Linea is a zk rollup much like zk sync era, and polygons zk chain, similar but different from optimistic rollups like Optimism OP coinbase BASE and Arbitrum ARB.
Linea chainlist link - Linea Testnet RPC and Chain settings | Chainlist
Linea Galxe campaign - Linea | Galxe
Linea official website - Linea
VoskCoin Metamask guide tutorial - MetaMask Guide | BEST Ethereum Wallet for DApps and Smart Contracts - YouTube
Arbitrum Beginners Guide! The BEST Ethereum Layer 2?! Arbitrum Beginners Guide! The BEST Ethereum Layer 2?! - YouTube
Hunting airdrops on the Arbitrum blockchain - Hunting Crypto Airdrops on the Arbitrum Blockchain! - YouTube

Timestamps


00:00 ConsenSys launching a new blockchain
01:07 What is ConsenSys?
02:05 What is Linea blockchain?
03:32 Linea blockchain ecosystem
05:37 How to add Linea to Metamask?
06:41 How to get Goerli testnet Ethereum?
08:10 What is the Alchemy platform?
08:47 Bridging Ethereum from Goerli Testnet to Linea
13:16 Interacting with Linea
15:07 Minting a free NFT on Linea
17:21 Decentralized trade on UniSwap
19:39 Potential Linea airdrop
Follow us on our official social media accounts! - VoskCoin | Twitter, Instagram, Facebook | Linktree
Subscribe to VoskCoin for more passive income tips! VoskCoin - YouTube
Follow VoskCoin on TikTok for more shorts! VoskCoin (@voskcoin) | TikTok
VoskCoin is for entertainment purposes only and is never intended to be financial investment advice. VoskCoin owns or has owned cryptocurrency and associated hardware. VoskCoin may receive donations or sponsorships in association with certain content creation. VoskCoin may receive compensation when affiliate/referral links are used. VoskCoin is home of the Doge Dad, VoskCoin is not your Dad, and thus VoskCoin is never liable for any decisions you make.
Linea Layer 2 Blockchain Tutorial & Airdrop Guide!