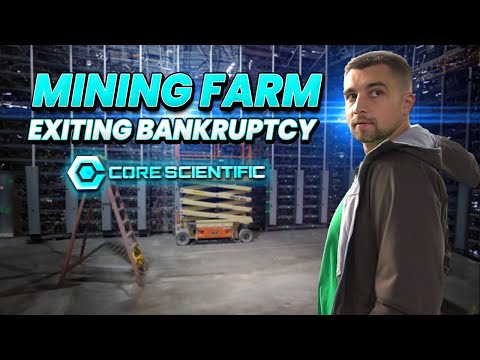 Core Scientific was literally a billion dollar Bitcoin mining farm and miner hosting facility… until they filed for bankruptcy, but they now claim they are emerging, what does this mean for BTC miners and CORZ stock investors? Subscribe! https://voskco.in/Sub
Quantum Expeditions Bitcoin Mining Farm Raise - Bitcoin Mining for Everyone | Quantum Expeditions democratizing BTC Mining
Buy a hard drive miner here - Evergreen Miner v2.5 VoskCoin Tails Edition
Watch the Core Scientific Dalton mining farm tour - https://youtu.be/82vMOVREXzM
Watch the Core Scientific Marble mining farm tour - https://www.youtube.com/watch?v=4ekOcDG2D8E
Deeper in the mines a VoskCoin mining farm tour series - https://youtube.com/playlist?list=PL4dnwHTjcf-8SXMDAoL7-XFkV6b4XUH3j
Hashrate Index wrote this great article - How Core Scientific Shed Debt and Cut Costs to Emerge From Bankruptcy
Core Scientific CORZ stock information - CORE SCIENTIFIC: CORZQ Stock Price Quote & News | Robinhood

Timestamps


00:00 Is Core scientific bankrupt?
02:02 Core scientific Bitcoin mining operation
03:00 Bitcoin mining is becoming more profitable
06:08 Emerging from Bankruptcy
07:36 What is going on with CORZQ stock?
08:00 Hashrate growing?!
09:30 Why did they go Bankrupt?
10:55 Share dilution?
12:30 Only year ago they went bankrupt
13:38 Core Scientific is a huge operation
14:22 Did they survive?
Follow us on our official social media accounts - VoskCoin | Instagram, Facebook | Linktree
VoskCoin is for entertainment purposes only and is never intended to be financial investment advice. VoskCoin owns or has owned cryptocurrency and associated hardware. VoskCoin may receive donations or sponsorships in association with certain content creation. VoskCoin may receive compensation when affiliate/referral links are used. VoskCoin is home of the Doge Dad, VoskCoin is not your Dad, and thus VoskCoin is never liable for any decisions you make.
Massive Bitcoin Mining Farm is EMERGING From Bankruptcy?! Core Scientific