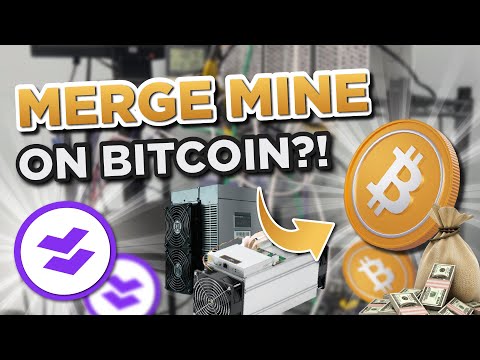 Merge Mining Bitcoin and Elastos for Web 3.0 and NFTs! Earning passive income mining Bitcoin is incredible, but also mining other coins for free that are building web 3.0 and nfts is even more lucrative!
Buy the BEST mining rig of 2022 here - https://voskco.in/b300
Learn more about Elastos ELA - Elastos
Elastos ELA official telegram group - Telegram: Contact @elastosgroup
Subscribe to VoskCoin - http://voskco.in/Sub
Review the BEST Helium hotspot miners - What is the BEST Helium Hotspot Miner to Buy? | by VoskCoin | VoskCoin | Medium
Compass sells Bitcoin miners and more - Compass — Bitcoin Mining and Hosting
Cryptocurrency mining is the best way to earn passive income, and mining more than one coin at once is awesome but what is this Elastos coin, and how has ELA been around for years but most still have not heard of it? Elastos leveraging Bitcoin mining security and building for web 3.0 and NFTs along with the metaverse is interesting, lets review Elastos!
Learn how to set up an ASIC miner! How To Set Up an ASIC Miner - YouTube

Timestamps


00:00 A coin to merge mine with Bitcoin?
00:50 Smart contract blockchain with Bitcoin's security
01:39 Elastos coin market details
03:04 How to merge mine Elastos with Bitcoin?
05:42 How to acquire Bitcoin miners?
06:11 Buy and host your miners with compass ( organic so use it for internal reference?)
06:33 Functionalities of Elastos project
08:03 The team behind Elastos project
09:18 Features of Elastos project
10:13 How does Elastos fair in the crypto world?
VoskCoinTalk the VoskCoin forum - VoskCoinTalk - Best cryptocurrency & blockchain forum
VoskCoin Facebook - Redirecting...
VoskCoin Reddit - https://www.reddit.com/r/voskcoin/
VoskCoin Discord Server Invite - VoskCoin
VoskCoin Twitter - https://twitter.com/VoskCoin
VoskCoin Instagram - Login • Instagram
VoskCoin is for entertainment purposes only and is never intended to be financial investment advice. VoskCoin owns or has owned cryptocurrency and associated hardware. VoskCoin may receive donations or sponsorships in association with certain content creation. VoskCoin may receive compensation when affiliate/referral links are used. VoskCoin is home of the Doge Dad, VoskCoin is not your Dad, and thus VoskCoin is never liable for any decisions you make.
Merge Mining Bitcoin and Elastos for Web 3.0 and NFTs!