Hello dear miners!
We are happy to announce that Equihub Pool was rebranded to Minerpool.org and we've added Ravencoin!
Also we've implemented new innovative and most profitable reward system!
PPTS - Pay Per Timeframe Shares! More info you can find on pool, our Discord or Telegram, its improved PPS system! Or ask here!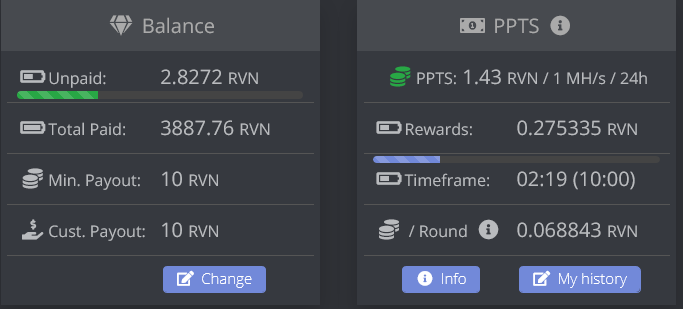 FEATURES

PPTS reward system!


Dedicated Stratum/Payment servers, High Availability, Multi-Server



EU (Germany),

EU (France),

US (NewYork),

ASIA (Singapore) stratum servers


Live support: https://discord.gg/CkbPGxs


Beautifully crafted theme, mobile first, responsive, lite and clean


VarDiff enabled with Low and High diff ports


HTTPS site and SSL stratum


PPTS / PPLNT-E share system / SOLO


Payout threshold : from 0.1 coin


Custom Payouts


Fast Payouts: Every

-

minutes


Pool Fee: 1%


Network & Pool & Miner history, averages, period selectors


Payout History, Blocks found chart history - ever wondered when a block is found related to the network difficulty ? here you have it


Small fingerprint (charts load only new delta points)


Search on steroids - live wallets results as you type, highlighted, case insensitive, any position of the searched text matching


API access with tons of unique stats


MiningRigRentals support:


Solo mining support:


Telegram Telegram: Contact @MinerPoolOrg


Telegram BOT @MinerPoolOrgBot