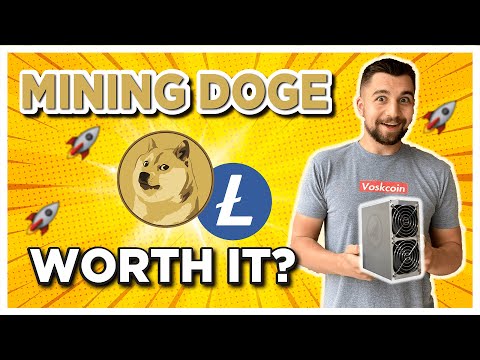 I'm earning passive income mining Dogecoin and Litecoin with my mining rigs! But is mining DOGE and LTC worth it and is mining still profitable? SPOILER mining is more profitable than ever before! Subscribe to VoskCoin - http://voskco.in/Sub
Get $25 for free and earn interest on DOGE LTC - https://voskco.in/cryptocom
Aquari is hoping to help the environment and investors - https://voskco.in/fb2bd0
Compass sells ASIC mining rigs - https://voskco.in/compass
Review the BEST Helium hotspot miners - What is the BEST Helium Hotspot Miner to Buy? | by VoskCoin | VoskCoin | Medium
Bobcat Miner 300 is the BEST mining rig to buy! https://voskco.in/HNTb
Every year I make more money mining Bitcoin, Ethereum, Dogecoin, Litecoin and many other cryptocurrencies – earning passive income mining cryptocurrency has been the most incredible investment of my life and mining Dogecoin is how I make the most money mining in 2021 other than Helium mining which is also super profitable but different than traditional crypto mining. Let's review my Dogecoin mining profitability and best doge miners in 2021 along with my Litecoin mining profitability and best LTC miners in 2021!
Links!
Review the most profitable mini doge miner! PROFITABLE Mini Doge Miner! - YouTube
Buy the most profitable Dogecoin miner! https://voskco.in/goldshell
Learn more about mining Dogecoin - https://youtu.be/Bij6DPhavUc
Learn more about the Bitmain Antminer L7 review - NEW DOGE MINER EARNS $117 A DAY?! - YouTube
Goldshell LT5 doge ltc miner review - The MOST PROFITABLE Dogecoin DOGE miner YOU CAN BUY! - YouTube

Timestamps


00:00 Is Mining Dogecoin and Litecoin worth it?
03:09 Is it Profitable to mine Litecoin and Doge?
04:41 Aquari.io
07:00 My mining profitability of the mini Doge
10:20 Earn interest on Dogecoin and Litecoin
11:00 Goldshell Mini Doge miner profits
12:05 Merge mining Litecoin and Dogecoin
14:00 Dogecoin Litecoin mining in 2021 review
VoskCoinTalk the VoskCoin forum - http://voskco.in/forum
VoskCoin Facebook - Redirecting...
VoskCoin Reddit - https://www.reddit.com/r/voskcoin/
VoskCoin Discord Server Invite - http://voskco.in/discord
VoskCoin Twitter - https://twitter.com/VoskCoin
VoskCoin Instagram - https://www.instagram.com/voskcoin/
VoskCoin is for entertainment purposes only and is never intended to be financial investment advice. VoskCoin owns or has owned cryptocurrency and associated hardware. VoskCoin may receive donations or sponsorships in association with certain content creation. VoskCoin may receive compensation when affiliate/referral links are used. VoskCoin is home of the Doge Dad, VoskCoin is not your Dad, and thus VoskCoin is never liable for any decisions you make.
Mining Dogecoin and Litecoin worth it?