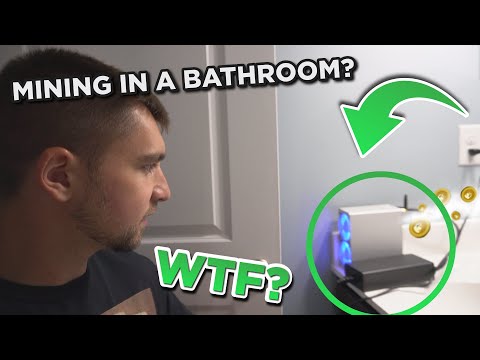 I mine cryptocurrency full-time from my home - and this quiet, small miner is mining in my bathroom?! Is it safe to mine crypto in your bathroom? Is my GF mad I mine Dogecoin in my bathroom?! Goldshell Mini Doge Pro miner review! Sub to VoskCoin! http://voskco.in/Sub
Get up to $250 for FREE with BlockFi! - https://voskco.in/blockfi
Buy a Mini Doge Pro from CoinMiningCentral - Coin Mining Central - UK Cryptocurrency Mining Hardware Supplier
CoinEx is making crypto trading easy - https://voskco.in/coinex
If you're looking for the best dogecoin miner or a profitable DOGE mining rig then you probably know about the Goldshell Mini-Doge. But now they've released the Mini-Doge Pro! How does it stand against the original Mini-Doge? Should you buy the mini doge miner or the mini doge pro miner? If you are new to mining and want to buy your first crypto mining rig to earn passive income mining cryptocurrency then the Goldshell Mini Doge Pro miner is a small, quiet and nearly silent, profitable Scrypt ASIC mini miner - but is it the best miner to buy right now?
This is one of my favorite miners right now (10% off!) - https://voskco.in/mntd10
Start mining with DXPool today - DxPool, Worry-free mining
Watch our review of the BEST Doge miner - NEW DOGE MINER EARNS $117 A DAY?! - YouTube
Goldshell manufactures mini dogecoin litecoin miners - https://voskco.in/goldshell

Timestamps


00:00 I'm mining crypto in my bathroom?!
01:40 Goldshell Mini Doge Pro setup
03:26 Setting up a mining pool for the Mini Doge Pro
07:01 Goldshell Mini Doge Pro hashrate
08:56 Mini Doge Pro profitability
10:30 Where to buy Mini Doge Pro miners
13:10 CoinEx crypto trading
13:43 Mini Doge vs Mini Doge Pro
16:23 Will Doge Proof of Stake be a problem?
18:39 VoskCoin Mini Doge Pro review
VoskCoinTalk the VoskCoin forum - VoskCoinTalk - Best cryptocurrency & blockchain forum
Follow us on our official social media accounts - VoskCoin | Linktree
VoskCoin is for entertainment purposes only and is never intended to be financial investment advice. VoskCoin owns or has owned cryptocurrency and associated hardware. VoskCoin may receive donations or sponsorships in association with certain content creation. VoskCoin may receive compensation when affiliate/referral links are used. VoskCoin is home of the Doge Dad, VoskCoin is not your Dad, and thus VoskCoin is never liable for any decisions you make.
Mining Dogecoins in my Bathroom Goldshell mini-doge pro miner review