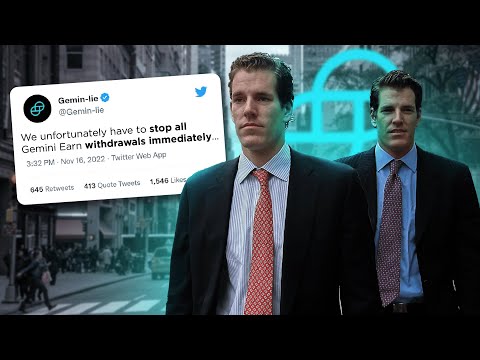 Gemini is a popular cryptocurrency exchange, boasts all of their crypto deposits are held in reserve 1:1. Gemini is a product of the billionaire Winklevoss twins, but Gemini Earn just HALTED WITHDRAWALS?! Subscribe! https://voskco.in/sub
Direct link to Gemini - Crypto Exchange | Gemini
FTX collapsed, and here's what YOU need to know - FTX Collapsed and Here's Why - YouTube
FTX and FTX US are a ponzi scheme by SBF - FTX is turning out to be the biggest PONZI SCHEME SCAM EVER - YouTube
BlockFi paused withdrawals, next to go bankrupt? BlockFi Paused Withdrawals...Here's What Happened and What's Next - YouTube
Gemini Exchange and the Winklevoss brothers have very deep pockets - yet here we are, with Gemini Earn having paused withdrawals and no update in sight as of yet. With Genesis Trading, the primary source of interest for the Gemini Earn rates, having requested a loan of a staggering $1 Billion, are they in more trouble than we realize? What could the future be for Gemini and the Gemini Earn program? What should you do right now if you're exposed to these entities? Let's take a deep dive into the situation around Gemini and Genesis.

Read the investigation threads here:


Gemini exchange statement on trust and safety -
Crypto Regulations in New York with Gemini - Crypto Regulations in New York | Gemini
Winklevoss Capital portfolio of investments -
Portfolio – Winklevoss Capital
Tyler and Cameron Winklevoss -
https://twitter.com/tyler
https://twitter.com/cameron

Timestamps


00:00 FTX contagion hits hard
01:00 How is Gemini holding up right now?
02:58 How affected is Gemini Earn right now?
06:56 Winklevoss - BlockFi connection
09:58 My withdrawal process from Gemini Earn
12:07 Gemini Earn pauses withdrawals
14:30 Gemini Earn is removed and interest rates nuked
15:09 Genesis seeking $1 Billion in funding
Follow us on our official social media accounts - VoskCoin | Twitter, Instagram, Facebook | Linktree
VoskCoin is for entertainment purposes only and is never intended to be financial investment advice. VoskCoin owns or has owned cryptocurrency and associated hardware. VoskCoin may receive donations or sponsorships in association with certain content creation. VoskCoin may receive compensation when affiliate/referral links are used. VoskCoin is home of the Doge Dad, VoskCoin is not your Dad, and thus VoskCoin is never liable for any decisions you make.
MORE HALTED CRYPTO WITHDRAWALS?! WTF Gemini Earn and Genesis Trading