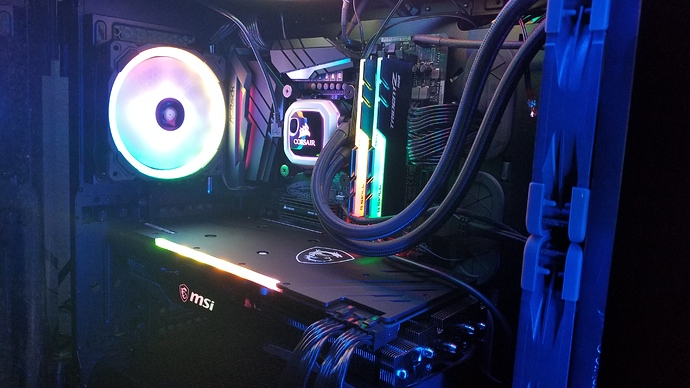 Tech Bench Specs:
Intel i9 9900k, Asrock Z390 Taichi Ultimate, G.Skill TridentZ RGB 3200 Mhz, Corsair H150i Pro 360mm AIO, Corsair MP600 Nvme 1TB, Seasonic 1200 Watt PSU
Hey All,
I did my usual live stream on 1/28/2021 on my channel, SerpentX Special Forces. I continued testing off the camera but here is what I got so far, however, please feel free to share your data or findings below with the community. Not all miners are supported at this time, but Devs are still releasing updates so please bear with me as I try to update, if possible. Please take time to watch videos and see the notes below.
Thanks
Summary Video - https://youtu.be/m454cROTbow
Live Stream Link: https://youtu.be/NrZo66eERLE
**Note: with this newer generation of AMD GPU's there are "Memory Timings - Default" and "Memory Timings - Fast". Not all Algos will see a performance boose with Fast timings, but I added it to the data. Drivers are still not as great, crashes will happen and you will have to re-apply your clocks, and power draw readings are all over the place. HWinfo, AMD Radeon software, and the Mining programs themselves all report something different, so the Power draw below was taken from a Kilowatt meter.
Phoenix Miner 5.5e - ETH - (Memory Timing - Default)
| 59.35 Mhs | 2239 core / 2000 mem | vcore 1025 / PL 0 | 165 Watt |
| --- | --- | --- | --- |
| 60.77 Mhs | 2185 core / 2050 mem | vcore 1000 / PL 0 | 150 Watt |
| 62.1 Mhs | 2185 core / 2100 mem | vcore 950 / PL 0 | 145 Watt |
| 63.36 Mhs | 2048 core / 2150 mem | vcore 925 / PL 0 | 135 Watt - 24/7 Stable |
| 63.38 Mhs | 2080 core / 2150 mem | vcore 900 / PL 0 | 130 Watt - Not 24/7 Stable |
Phoenix Miner 5.5e - ETH - (Memory Timing - Fast Timing)
| 60.12 Mhs | 2239 core / 2000 mem | vcore 1025 / PL 0 | 165 Watt |
| --- | --- | --- | --- |
| 61.59 Mhs | 2185 core / 2050 mem | vcore 1000 / PL 0 | 150 Watt |
| 63.06 Mhs | 2185 core / 2100 mem | vcore 950 / PL 0 | 145 Watt |
| 64.64 Mhs | 2048 core / 2150 mem | vcore 925 / PL 0 | 135 Watt - 24/7 Stable |
| 64.5 Mhs | 2080 core / 2150 mem | vcore 900 / PL 0 | 130 Watt - Not 24/7 Stable |
| 62.25 Mhs | 2080 core / 2150 mem | vcore 900 / PL 0 | 123 Watt - Not 24/7 Stable |
Phoenix Miner 5.5e - ETC - Ethereum Classic
| 60.52 Mhs | 2239 core / 2000 mem | vcore 1025 / PL 0 | 165 Watt - Default Timings |
| --- | --- | --- | --- |
| 61.25 Mhs | 2239 core / 2000 mem | vcore 1025 / PL 0 | 165 Watt - Fast Timings |
| 62.77 Mhs | 2185 core / 2050 mem | vcore 1000 / PL 0 | 155 Watt |
| 64.28 Mhs | 2185 core / 2100 mem | vcore 950 / PL 0 | 150 Watt |
| 65.78 Mhs | 2100 core / 2150 mem | vcore 925 / PL 0 | 140 Watt |
| 65.79 Mhs | 2048 core / 2150 mem | vcore 925 / PL 0 | 135 Watt |
XMRstak 2.10.8 - RYO - CryptonightGPU (OLD software)
| 3308 Hs | 2239 core / 2000 mem | vcore 1025 / PL 0 | 225 Watt |
| --- | --- | --- | --- |
| 3339 Hs | 2200 core / 2100 mem | vcore 950 / PL 0 | 175 Watt |
| 3065 Hs | 2048 core / 2150 mem | vcore 925 / PL 0 | 150 Watt |
XMRRig 2.14.6 - Monero - CryptonightR (OLD software)
| 1516.7 Hs | 2239 core / 2000 mem | vcore 1025 / PL 0 | 145 Watt - Default Timings |
| --- | --- | --- | --- |
| 1584.4 Hs | 2239 core / 2000 mem | vcore 1025 / PL 0 | 145 Watt - Fast Timings |
| 1612.2 Hs | 2185 core / 2050 mem | vcore 1000 / PL 0 | 135 Watt |
| 1646.8 Hs | 2185 core / 2100 mem | vcore 950 / PL 0 | 130 Watt |
| 1686.9 Hs | 2100 core / 2150 mem | vcore 925 / PL 0 | 118 Watt |
| 1685.1 Hs | 2048 core / 2150 mem | vcore 925 / PL 0 | 112 Watt |
Lolminer 1.20 - Beam - BeamHashIII
| 32.8 Sols | 2239 core / 2000 mem | vcore 1025 / PL 0 | 165 Watt - Default Timings |
| --- | --- | --- | --- |
| 34.7 Sols | 2239 core / 2000 mem | vcore 1025 / PL 0 | 165 Watt - Fast Timings |
| 35.2 Sols | 2185 core / 2050 mem | vcore 1000 / PL 0 | 150 Watt |
| 36.5 Sols | 2185 core / 2100 mem | vcore 950 / PL 0 | 145 Watt |
| 36.6 Sols | 2100 core / 2150 mem | vcore 925 / PL 0 | 133 Watt |
| 36.1 Sols | 2048 core / 2150 mem | vcore 925 / PL 0 | 130 Watt |
LolMiner 1.20 - MimbleWimble Coin - Cuckatoo31
| 2.28 G/s | 2239 core / 2000 mem | vcore 1025 / PL 0 | 215 Watt - Default Timings |
| --- | --- | --- | --- |
| 2.30 G/s | 2239 core / 2000 mem | vcore 1025 / PL 0 | 215 Watt - Fast Timings |
| 2.30 G/s | 2185 core / 2050 mem | vcore 1000 / PL 0 | 195 Watt |
| 2.31 G/s | 2185 core / 2100 mem | vcore 950 / PL 0 | 170 Watt |
| 2.25 G/s | 2100 core / 2150 mem | vcore 925 / PL 0 | 155 Watt |
| 2.21 G/s | 2048 core / 2150 mem | vcore 925 / PL 0 | 146 Watt |
LolMiner 1.20 - Grin - Cuckatoo32
| 0.93 G/s | 2239 core / 2000 mem | vcore 1025 / PL 0 | 215 Watt - Default Timings |
| --- | --- | --- | --- |
| 0.93 G/s | 2239 core / 2000 mem | vcore 1025 / PL 0 | 215 Watt - Fast Timings |
| 0.93 G/s | 2185 core / 2050 mem | vcore 1000 / PL 0 | 195 Watt |
| 0.92 G/s | 2185 core / 2100 mem | vcore 950 / PL 0 | 180 Watt |
| 0.91 G/s | 2100 core / 2150 mem | vcore 925 / PL 0 | 162 Watt |
| 0.90 G/s | 2048 core / 2150 mem | vcore 925 / PL 0 | 150 Watt |
LolMiner 1.20 - CuckooCycle - Cuckaroo 29b
| 7.00 G/s | 2239 core / 2000 mem | vcore 1025 / PL 0 | 170 Watt - Default Timings |
| --- | --- | --- | --- |
| 7.01 G/s | 2239 core / 2000 mem | vcore 1025 / PL 0 | 170 Watt - Fast Timings |
| 7.03 G/s | 2185 core / 2050 mem | vcore 1000 / PL 0 | 150 Watt |
| 7.02 G/s | 2185 core / 2100 mem | vcore 950 / PL 0 | 140 Watt |
| 6.91 G/s | 2100 core / 2150 mem | vcore 925 / PL 0 | 125 Watt |
| 6.82 G/s | 2048 core / 2150 mem | vcore 925 / PL 0 | 120 Watt |
NB Miner 36.1 - KawPow - Ravencoin
| 30.37 Mhs | 2239 core / 2000 mem | vcore 1025 / PL 0 | 255 Watt - Default Timings |
| --- | --- | --- | --- |
| 31.10 Mhs | 2239 core / 2000 mem | vcore 1025 / PL 0 | 255 Watt - Fast Timings |
| 31.56 Mhs | 2185 core / 2050 mem | vcore 1000 / PL 0 | 240 Watt |
| 32.10 Mhs | 2185 core / 2100 mem | vcore 950 / PL 0 | 225 Watt |
| 33.09 Mhs | 2100 core / 2150 mem | vcore 925 / PL 0 | 195 Watt |
| 31.51 Mhs | 2048 core / 2150 mem | vcore 925 / PL 0 | 182 Watt |
NB Miner 36.1 - Octopus - Conflux
| 38.65 Mhs | 2239 core / 2000 mem | vcore 1025 / PL 0 | 235 Watt - Default Timings |
| --- | --- | --- | --- |
| 38.73 Mhs | 2239 core / 2000 mem | vcore 1025 / PL 0 | 235 Watt - Fast Timings |
| 37.5 Mhs | 2185 core / 2050 mem | vcore 1000 / PL 0 | 200 Watt |
| 37.36 Mhs | 2185 core / 2100 mem | vcore 950 / PL 0 | 182 Watt |
| 35.87 Mhs | 2100 core / 2150 mem | vcore 925 / PL 0 | 160 Watt |
| 35.08 Mhs | 2048 core / 2150 mem | vcore 925 / PL 0 | 155 Watt |
Gminer 2.44 - Zhash - Equihash 144,5
| 73.7 Sols | 2239 core / 2000 mem | vcore 1025 / PL 0 | 165 Watt - Default Timings |
| --- | --- | --- | --- |
| 73.2 Sols | 2239 core / 2000 mem | vcore 1025 / PL 0 | 165 Watt - Fast Timings |
| 72.09 Sols | 2185 core / 2050 mem | vcore 1000 / PL 0 | 145 Watt |
| 73.6 Sols | 2185 core / 2100 mem | vcore 950 / PL 0 | 130 Watt |
| 73.4 Sols | 2100 core / 2150 mem | vcore 925 / PL 0 | 115 Watt |
| 73.5 Sols | 2048 core / 2150 mem | vcore 925 / PL 0 | 115 Watt |