Table of Contents
Some notes on the MXC M2 Pro miner I gathered on #mxc-m2-pro-mining in the last while.
LMK if anything is incorrect, this will be converted in a Wiki in a while.
The MXC M2 Pro is a low power (~10W) multi-coin miner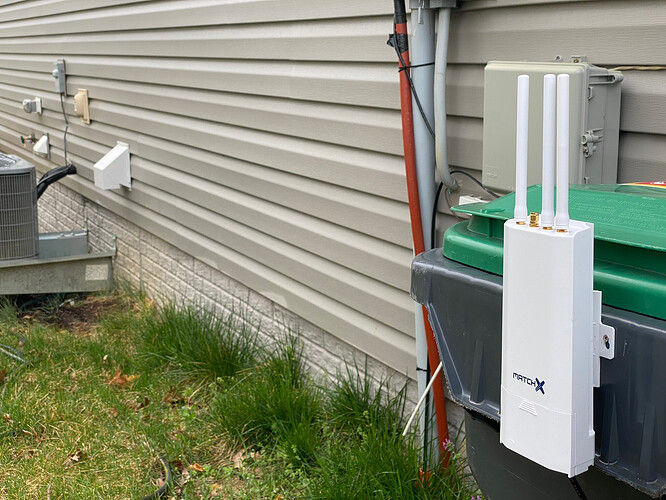 You can buy it using this link. The promo code 'VoskM2Pro' will give you $50 USD off.
You will get $10-$14 in MXC value per day. The exact number changes based on the current MXC price. If MXC rises in price you get less, if it drops in price you get more, therefore you get a consistent $10-14 a day in MXC. Example here
Note, this is the case for mining MXC only.
Depends - under change with the 'miner fuel' changes recently
Other updates such as AMA's go here:
FAQ Section
You can have an M2 Pro miner and a Helium hotspot miner at the same location without any interference or profit concerns.
Same band but different model - Helium has Proof of Coverage, while M2 Pro is Proof of Participation
ie. you can have multiple units in same area (for now) - participating gets you rewards (for the time being), it also does multiple coins.
The M2 Pro currently tries to achieve a consistent payout - see 'What is it?' above
Yes - this does not currently operate like Proof of Coverage (like helium), therefore you can have as many as you want in one location.
This is a good spreadsheet/guide detailing how to BOND DHX and LOCK MXC as a pair to generate revenue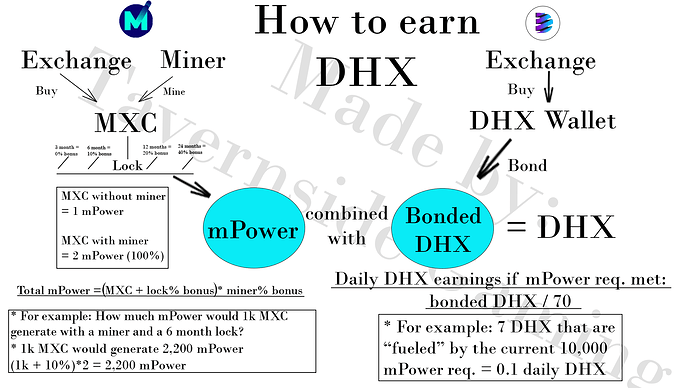 A good video guide also here
@TavernSideGaming made a similair one here: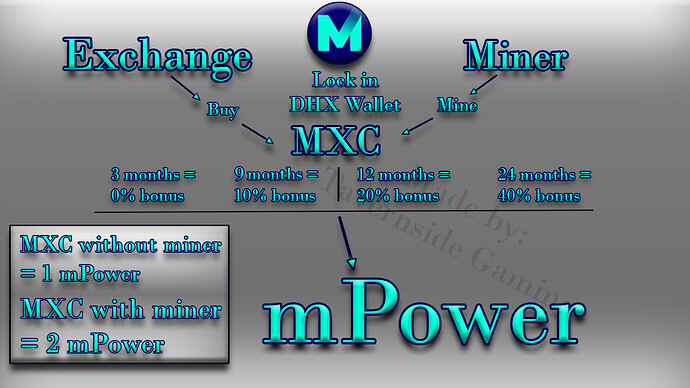 A good spreadsheet letting you work out the optimum pairing combination of MXC/DHX for bonding
Read above about MXC, staking and DHX first
Kript-O has a good video about it and spreadsheet
Some points,
Miner health or fuel is a term that started getting a mention in mid-May 2021.
You shared your feedback and the MXC team is going through all feedback, your tweets and beyond from the online community, we are determined to be as transparent as possible through this entire process of this new feature and wand to thank all of you for letting us take the time to make the necessary updates.
Use biki.cc for MXC & DHX - no need to KYC for under $5k USD/day
Hoo Exchange offer MXC and DHX reportedly
KuCoin offer MXC
According to this video , the MXC M2 Pro has a link budget of 173db which gives it a average range of 20km (12.5mi)
For refunds you contact awesome@matchx.io with your invoice numbers in the subject line
This is for you to decide - however, some open-ended opinions collected over time from multiple sources are listed below which could possibly have been misunderstood or misinterpreted,
Why is the claimed coverage area of a M2 Pro so much more than a Helium miner when they operate at the same bands? Yes it is understood that there is patents tied to it, however patents tend not to defy the laws of physics
Why is the device cost so high? Again, patents are typically mentioned as a reason (I'm not sure I grasp this logic)
Once you grasp the concept that most mining activities encourage you to stake & bond, especially for extended periods it should not be surprising that some might think that you are given back a daily portion of the initial revenue cost of your device, in the hopes that you would stake/bond your interests to further continue the scheme.
There is a lot of government-centric deals, this sounds great at first, however are especially not immune to questionable decisions
This video, published 11 May 2021 says at 56 seconds "In fact, the M2 miner currently mines MXC as well as Bitcoin and DHX all simultaneously". Note that at the time the video was published only the DKP Testnet has run the previous month (analysis here) and Bitcoin was not available at the time the video was published.
In the same post as the above, the foundation says:
The average power consumption to mine this quantity of BTC was determined to be 60 watts per miner over the course of 30 days, resulting in a calculated average of close to 2 watts per day.
Watts is a consumption rate so the quoted text makes no sense. It is the equivalent of saying that I drove 60 miles per hour in 30 days.
Hazarding a guess at what they meant - possibly 60 watts over 24h would be 1.44 kWh, ~30 day month = 43.20 kWh assuming 10c elec = $4.32 cost
The miner is pictured in all literature with 4 antenna's - whilst it is only shipped with 3 (with the 4th 4/5G one not being available at the time of writing)
Whilst it is understood that it is purely proof-of-participation based, it appears encouraged to have multiple miners in the same location from the photos on their site - surely this does (long term for the whole ecosystem) more harm than good?
'Mining' (something which is typically taxing on hardware and produce thermal control concerns) might be the wrong word to use for what it does on a M2 Pro for MXC/DHX/Bitcoin - the literature is too light on technical detail IMHO - this could just-as-well be a automation exercise utilising tradebots to trade BTC - the lack of clarity of what you are actually participating in causes questions on validity and sustainability
After reading the whitepapers it has become apparent that it doesn't talk about tokenomics, only that there's 2.6 billion in supply… What's to give the token increased value in the future when POP goes away? What's going to ensure it's not a "penny stock" for the rest of it's life?
MXCs investors hold 80% of the supply and selling miners that are probably worth $50 for $3,000 whereas none of Helium's investors were allocated Helium and sell their miners for what… $500-ish? This questions what the future holds for MXC
Promised referrals was never paid to VoskCoin
Significant earning changes with miner fuel was discussed 11 June 2021 without any voting, or agreement with the users of the product - thereby causing significant investment changes in the product (for example, this makes no sense for a US taxpayer anymore)
IPFS is still proudly displayed on the webpages whilst it appears that this is no longer a goal and being replaced with Polkadot
Miner fuel has no set maximum, therefore penalising any MXC withdrawals, whilst you do have control of withdrawels you are penalised for it (ie. approaching Ponzi territory)