when it comes to free things im your man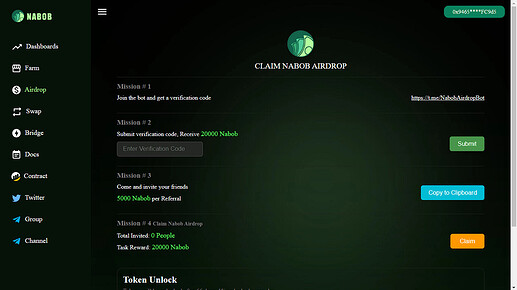 So today you'll be able to get 20,000 Nabob tokens with 1% unlock every day which is a fancy way of saying a lot of time but at least your getting something

But what is Nabob finance ?
it is a protocol with staking and compounding features. The rewards are given out in $Nabob token with a high fixed APY of 433,025.82% .

Don't look at me I'm not making this up check their docs .
The Tokenomics Of NABOB
The amount of the fees (10% for buys and 10% for sells ) allows Nabob to provide $Nabob holders with the stable high yield of 433,025.82% annually.
Buy / Sell Fees:
LP 4.0% _______ Liquiduity Provider
NIF 4.0% _______ NABOB Insurance Fund
Treasury 1% _______ Supports NIF, Marketing budget and New product development.
Fire Pit 1% _______ Fire Pit (to get burned )
What we're really here for

airdrop is 20,000 Nabob but you need to complete it by first joining telegram channel and group then you complete their twitter and retweeting the pinned post while tagging your friends well i did that and i got my 20,000 Nabob. The details are submitted to the telegram bot . You can also earn more by referring people which gets you an additional 5000 Nabob.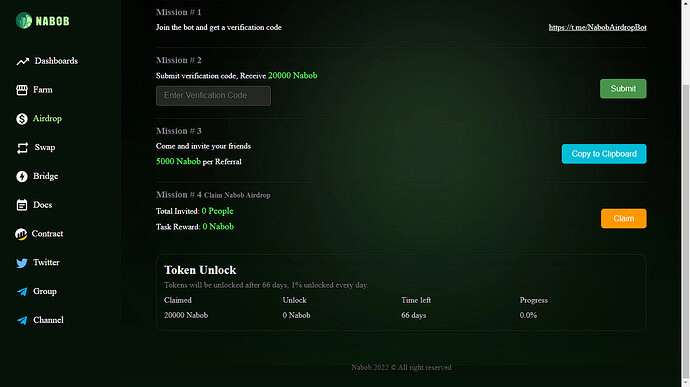 i did all that and here is my claim
Final thoughts
First the name is weird it rhymes with a lot of things other than that the project is ambitious there 10% fee is steep to trade so yeah people will restrict their number of transactions . i personally wont put my cash into it i like to see things play out before jumping on these bandwagons but hey im no financial advisor DYOR.
LINKS
My Referral link

Nabob
Non Referral link

Nabob
Good luck people