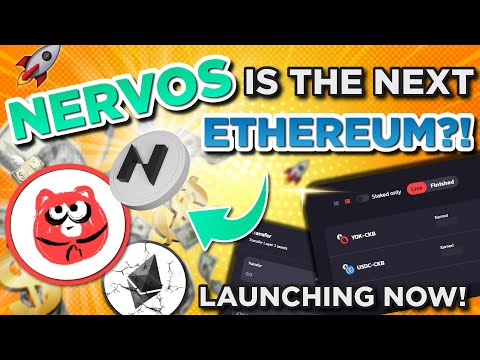 Nervos Network CKB is the NEXT Ethereum ETH & here's why! Mineable coin Nervos Network launches NFTs and DEXs! Tou can mint NFTs on Nervos and Yokaiswap a decentralized exchange DEX Uniswap clone is launching! Subscribe to VoskCoin - http://voskco.in/Sub
Was this $7,500 Crypto Mining Rig actually WORTH IT?? Was this $7,500 Crypto Mining Rig actually WORTH IT?? - YouTube
Compass has miners in stock! Compass — Bitcoin Mining and Hosting
Helium hotspot miners are the best mining rigs to buy now! Is this the BEST Helium Miner EVER? - YouTube
The Bobcat Miner 300 is the best Helium mining rig - https://voskco.in/HNTb
Decentralized Finance DeFi and then NFTs Non-Fungible Tokens really made Ethereum shine and then Binance Smart Chain and Solana among other blockchains and now Nervos Network CKB is launching their DeFi solutions and NFTs including an exciting new NFT marketplace called kollect.me – this new Kollect NFT marketplace adds a whole new layer of usability to the platform that is Nervos Network one of the only cryptocurrencies still taking a positive stance for Proof of Work PoW and remains to be a mineable cryptocurrency! Now Yokaiswap an Uniswap fork AMM clone for Nervos CKB layer-2 bringing DeFi to Nervos CKB and making it the next Ethereum killer!
Learn more about the Nervos Network CKB! https://voskco.in/Nervos
Kollect.me NFT marketplace on Nervos CKB - Kollect.me Launches on Nervos to Make Accessing NFTs Easy
Direct link to NFT marketplace Kollect https://kollect.me/
Dxpool is the best CKB mining pool in our testing - 大象矿池,无忧挖矿
Goldshell CK5 Nervos CKB miner IN STOCK NOW! https://voskco.in/goldshell
HOW MUCH MONEY did $5,000 of Crypto Mining Rigs Earn in 2020?! - HOW MUCH MONEY did $5,000 of Crypto Mining Rigs Earn in 2020?! - YouTube

Timestamps


00:00 Nervos blockchain just became fully upgraded
02:44 The rapid uptrend of CKB
03:42 Network improvements in Nervos blockchain
03:58 YokaiSwap DEX launching on Nervos blockchain
05:12 MetaMask DeFi guide
05:38 Features of YokaiSwap
08:27 YokaiSwap IDO details
09:57 YokaiSwap official mainnet launch
10:22 Kollect.me an NFT marketplace on Nervos blockchain
11:12 Nervos blockchain scaling solutions
11:26 Is Nervos an Ethereum killer?
VoskCoinTalk the VoskCoin forum - VoskCoinTalk - Best cryptocurrency & blockchain forum
VoskCoin Facebook - Redirecting...
VoskCoin Reddit - https://www.reddit.com/r/voskcoin/
VoskCoin Discord Server Invite - VoskCoin
VoskCoin Twitter - https://twitter.com/VoskCoin
VoskCoin Instagram - Login • Instagram
VoskCoin is for entertainment purposes only and is never intended to be financial investment advice. VoskCoin owns or has owned cryptocurrency and associated hardware. VoskCoin may receive donations or sponsorships in association with certain content creation. VoskCoin may receive compensation when affiliate/referral links are used. VoskCoin is home of the Doge Dad, VoskCoin is not your Dad, and thus VoskCoin is never liable for any decisions you make.
Nervos Network CKB is the NEXT Ethereum ETH & here's why!