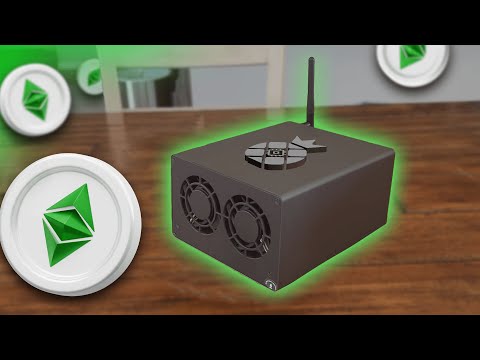 With Ethereum (ETH) moving to Proof of Stake soon, many believe Ethereum Classic (ETC) will take its place as the next best coin to mine. This mini miner from iPollo mines ETC - but is it worth the price? Let's find out! http://voskco.in/Sub
Get $10 for FREE and 5% off your trading fees with FTX! - FTX.US & FTX Sign-Up Bonuses — $15 free, 5% off fees & FREE Crypto! - VoskCoin - Medium
Buy your miner direct from iPollo for a discount - iPollo Store
Use code VOSK100 to save $100 of your order
MillionMiner is an ipollo miner reseller! Millionminer - Millionminer
Once Ethereum moves to Proof of Stake, it will no longer be mineable. ETH is currently more profitable to mine than Bitcoin per the average daily dollar total! Because of this switch from Proof of Work, many companies seem to be capitalizing on the absence Ethereum will leave in the mining space - most notably by releasing ETH and ETC miners. iPollo have recently released their v1 Mini miner series, and today we'll look at the V1 Mini Classic+ (WiFi version), which mines ETC. Amidst all this uncertainty in the mining space, is this miner worth it? Let's take a look at how to set up the V1 Mini Classic+, and what its hashrate is.

Timestamps


00:00 Is this the future for Ethereum Classic mining?
00:58 Unboxing this Ethereum Classic miner
03:15 Mine crypto from your home?
04:30 How loud is this miner?
06:10 How to setup the iPollo V1 Mini Classic+
08:06 Choosing the right mining pool for you
09:26 The hashrate & performance for iPollo V1 Mini Classic+
12:00 Where can you buy this miner?
13:59 Join our forum and share your experience!
14:20 The Ethereum merge is coming!
15:17 Does ETC mining have a future?
Follow us on our official social media accounts! - VoskCoin | Linktree
VoskCoin is for entertainment purposes only and is never intended to be financial investment advice. VoskCoin owns or has owned cryptocurrency and associated hardware. VoskCoin may receive donations or sponsorships in association with certain content creation. VoskCoin may receive compensation when affiliate/referral links are used. VoskCoin is home of the Doge Dad, VoskCoin is not your Dad, and thus VoskCoin is never liable for any decisions you make.
New Mini Miner Review!