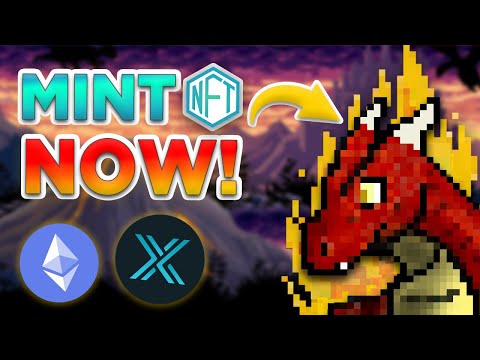 New NFT Collection on Ethereum - Mint NFTs, Breed NFTs, and Earn TOKENS! Let's review exciting new NFTs and that's also cheap to mint on Ethereum ETHon Immutable X layer 2 solution! NFTs are the fastest growing market and making crypto investors rich or millionaires! Subscribe to VoskCoin - http://voskco.in/Sub
The Last Dragons NFT collection! The Last Dragons
Last Dragons NFTs Discord has TONS of info - The Last Dragons NFT
Best mining rig you can buy review - Is this the BEST Helium Miner EVER? - YouTube
Compass has miners in stock! Compass — Bitcoin Mining and Hosting
The Bobcat Miner 300 is the best Helium mining rig - https://voskco.in/HNTb
Opensea and Ethereum brought NFTs to the forefront and other blockchains like Solana SOL are competing for that marketshare but Coinbase and FTX launching NFT marketplaces is incredibly bullish. There's some new exciting nft mints with gamification like breeding, burning NFTs, and even their own TREASURE token The Last Dragons could be the last dragon NFTs we want or need with their exciting roadmap planned!
Links!
The Last Dragons NFT Discord is packed with info - The Last Dragons NFT
The Last Dragons NFT - https://twitter.com/LastDragonsNFTs
The Last Dragons NFTs on Immutable - Immutable X
The Last Dragons NFTs on Token Trove Market - https://tokentrove.com/collection/LastDragons
Coinbase NFT marketplace sign-up - https://voskco.in/cbnft
FTX NFTs - FTX
FTX US NFTs! Buy and Sell Crypto on FTX: Bitcoin, Ethereum and more
Phantom Solana NFT wallet - Phantom - A friendly Solana wallet built for DeFi & NFTs
My NFTs public address and account on opensea - https://voskco.in/oNFTS
How to set up metamask - MetaMask Guide | BEST Ethereum Wallet for DApps and Smart Contracts - YouTube

Timestamps


00:00 You can mint a NFT right now!
01:34 Minting buying and selling NFTs
02:24 Last Dragons NFT has very cool pixel art
03:13 Minting on immutable X with very low fees?
06:18 DAO and a Token Launch $TREASURE
08:44 Realistic goals for the future of this NFT collection?
10:35 Immutable X a layer 2 Ethereum solution for NFTs
12:50 Buying and selling your NFT on immutableX
13:54 Last Dragons a project with long term focus?
VoskCoinTalk the VoskCoin forum - VoskCoinTalk - Best cryptocurrency & blockchain forum
VoskCoin Facebook - Redirecting...
VoskCoin Reddit - https://www.reddit.com/r/voskcoin/
VoskCoin Discord Server Invite - VoskCoin
VoskCoin Twitter - https://twitter.com/VoskCoin
VoskCoin Instagram - Login • Instagram
VoskCoin is for entertainment purposes only and is never intended to be financial investment advice. VoskCoin owns or has owned cryptocurrency and associated hardware. VoskCoin may receive donations or sponsorships in association with certain content creation. VoskCoin may receive compensation when affiliate/referral links are used. VoskCoin is home of the Doge Dad, VoskCoin is not your Dad, and thus VoskCoin is never liable for any decisions you make.
New NFT Collection on Ethereum - Mint NFTs, Breed NFTs, and Earn TOKENS! The Last Dragons NFT review