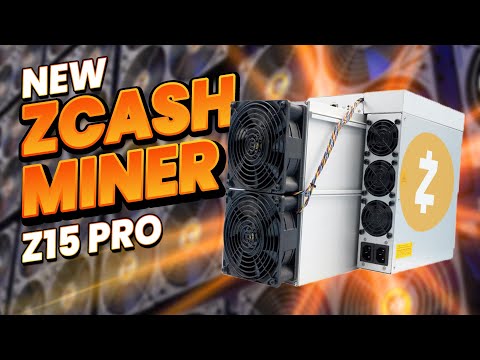 New Zcash Miner! Bitmain Antminer Z15 Pro ZEC ASIC mining rig, the best Zcash mining rig ever. This passive income producing computer mines the equihash mining algorithm, which can easily be converted into dollars or Bitcoins. I would buy this miner instead of though! - Evergreen
Coreum could be the next big layer-1! https://voskco.in/coreum
Grab an ASIC miner from CMB - https://voskco.in/cmb
CMC also sells ASIC miners! Coin Mining Central - UK Cryptocurrency Mining Hardware Supplier
use code VOSKCOIN to save some coin!
VoskCoinTalk is the best mining forum! VoskCoinTalk - Best cryptocurrency & blockchain forum
Zcash was once all the rage, especially for GPU miners but then ASIC miners took over the ZEC network along with other shitcoins like Zencash ZEN now called horizen, zclassic zcl, bitcoin private btcp, and many other loser cryptocurrencies. Historically it has always been best to dump your mined Zcash coins for other crypto, but lets review the Bitmain Antminer Z15 Pro the most powerful and profitable ZEC miner!
How to prepare your home electricity for mining - Bitcoin Crypto and GPU Mining Electricity Guide! - YouTube

Timestamps


00:00 A new Zcash miner just dropped!
01:00 What is a mining Sol
02:00 Zcash mining Revenue
04:34 Zcash Marketcap and price statics
05:52 Zcash and Zooko
07:35 The price of the z15 pro?
08:42 Zcash network hash rate
10:03 Should I buy the z15 or the z15 Pro?
11:32 Where to buy the Bitmain Antminer Z15 Pro
Follow us on our official social media accounts - VoskCoin | Twitter, Instagram, Facebook | Linktree
VoskCoin is for entertainment purposes only and is never intended to be financial investment advice. VoskCoin owns or has owned cryptocurrency and associated hardware. VoskCoin may receive donations or sponsorships in association with certain content creation. VoskCoin may receive compensation when affiliate/referral links are used. VoskCoin is home of the Doge Dad, VoskCoin is not your Dad, and thus VoskCoin is never liable for any decisions you make.
New Zcash Miner! Bitmain Antminer Z15 Pro ZEC ASIC