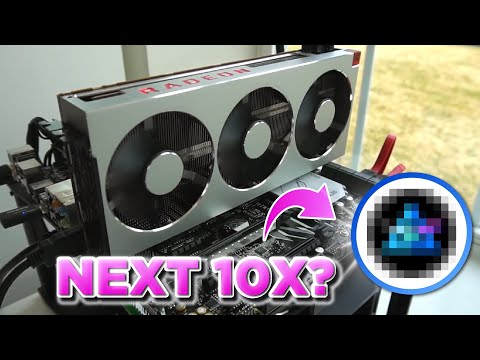 Next 10x Crypto? Beam a GPU Mineable Cryptocurrency with DeFi, NFTs, and Staking! Beam the mimblewimble privacy coin with decentralized atomic swaps is launching NFTs, BeamX staking, and DeFi! Subscribe to VoskCoin - http://voskco.in/Sub
Get beamed up with Beam crypto! https://voskco.in/beam
Learn how to GPU mine beam! How To Mine BEAM - Beamhash III UPDATE - High GPU Mining PROFITS! - YouTube
Compass has miners in stock! Compass — Bitcoin Mining and Hosting
Helium hotspot miners are the best mining rigs to buy now! Is this the BEST Helium Miner EVER? - YouTube
The Bobcat Miner 300 is the best Helium mining rig - https://voskco.in/HNTb
Decentralized Finance DeFi and then NFTs Non-Fungible Tokens really made Ethereum shine and then Binance Smart Chain and Solana among other blockchains and now Beam a GPU mineable cryptocurrency has launched support for DeFi, NFTs, and BEAM has had their own unique true peer to peer p2p atomic swaps for years now. Beam has launched BeamX a governance token that Beam holders can be rewarded with for simply staking. Beam lets crypto investors earn passive income with their GPU mining rigs and earn passive income staking their cryptocurrency earning more coins. Let's review Beam and all of their exciting recent cryptocurrency token development!
Watch the original Beam VoskCoin review! How To Mine BEAM | JUST LAUNCHED | Asic-Resistant GPU Mineable Cryptocurrency - YouTube
Beam desktop wallet download - https://beam.mw/downloads
Beam web wallet link - Beam Web Wallet - Chrome Web Store
Beam BeamX governance token - Introducing BeamX: Privacy-by-Default & Maximum Confidentiality DeFi ecosystem! | by Danai Raza | BEAM Privacy | Medium
Beam cryptocurrency staking tutorial - BEAM Staking Tutorial. This article serves as a step-by-step… | by Danai Raza | BEAM Privacy | Oct, 2021 | Medium

Timestamps


00:00 BEAM the GPU mineable coin
01:55 Mimblewimble BEAM and beamhash III
04:13 What is the BEAM project?
05:53 What are Atomic Swaps in BEAM?
06:47 Features of BEAM project
08:08 What are Confidential Assets in BEAM?
08:46 BEAM web wallet
09:14 Upcoming features of BEAM project
09:54 NFTs on BEAM platform?
10:11 BEAM project Audit
10:31 BEAM BeamX staking
11:42 VoskCoin BEAM crypto review
VoskCoinTalk the VoskCoin forum - VoskCoinTalk - Best cryptocurrency & blockchain forum
VoskCoin Facebook - Redirecting...
VoskCoin Reddit - https://www.reddit.com/r/voskcoin/
VoskCoin Discord Server Invite - VoskCoin
VoskCoin Twitter - https://twitter.com/VoskCoin
VoskCoin Instagram - Login • Instagram
VoskCoin is for entertainment purposes only and is never intended to be financial investment advice. VoskCoin owns or has owned cryptocurrency and associated hardware. VoskCoin may receive donations or sponsorships in association with certain content creation. VoskCoin may receive compensation when affiliate/referral links are used. VoskCoin is home of the Doge Dad, VoskCoin is not your Dad, and thus VoskCoin is never liable for any decisions you make.
Next 10x Crypto? Beam a GPU Mineable Cryptocurrency with DeFi, NFTs, and Staking!