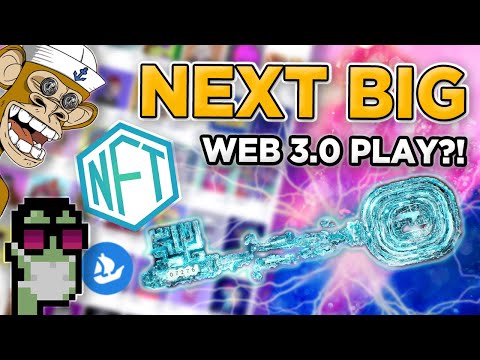 Opensea is an NFT marketplace worth over 13 billion, but move over opensea because there's a new NFT marketplace called NFT.com launching with their Genesis Keys that let you become part of their DAO?! Sub to VoskCoin! http://voskco.in/Sub
NFTcom will be the next big NFT web 3.0 play! NFT.com
NFT.com Genesis Keys join the NFT DAO! NFT.com Announces Date of Genesis Key Public Sale
This is the best mining rig you can buy in 2022 - https://voskco.in/b300
OpenSea and LooksRare are both incredibly successful NFT marketplaces that have made Billions of Dollars. NFT.com is now entering the NFT market space, and their Genesis Keys are going to be released soon. Will they be the next Bored Apes NFT collection? How will this affect earning passive income with NFTs? Is this the next biggest play to make within the Web 3.0 ecosystem?
Crypto Cobie's Substack - Incentives structures - Cobie
LooksRare and their Ponzi airdrop?! - Exposing a $70 MILLION Crypto Ponzi?! - YouTube
Learn how to buy, trade and mint your own NFT - How To Buy, Sell, and MINT NFTs on FTX to Make Money! - YouTube

Timestamps


00:00 Could NFT.com be the next OpenSea?
01:02 The future of NFT passive income
02:11 NFT.com Genesis Keys
03:49 Public team of NFT.com
05:41 Growth potential of NFTs
06:36 Decentralizing NFT.com with a DAO
08:23 How does NFT.com marketplace work?
09:52 How NFT.com wants to differentiate from OpenSea
10:49 Power of infrastructure in crypto
11:41 VoskCoin NFT.com review
VoskCoinTalk the VoskCoin forum - VoskCoinTalk - Best cryptocurrency & blockchain forum
VoskCoin Facebook - Redirecting...
VoskCoin Reddit - https://www.reddit.com/r/voskcoin/
VoskCoin Discord Server Invite - VoskCoin
VoskCoin Twitter - https://twitter.com/VoskCoin
VoskCoin Instagram - Login • Instagram
VoskCoin is for entertainment purposes only and is never intended to be financial investment advice. VoskCoin owns or has owned cryptocurrency and associated hardware. VoskCoin may receive donations or sponsorships in association with certain content creation. VoskCoin may receive compensation when affiliate/referral links are used. VoskCoin is home of the Doge Dad, VoskCoin is not your Dad, and thus VoskCoin is never liable for any decisions you make.
NFT.com could be the NEXT Big Web 3.0 Play!