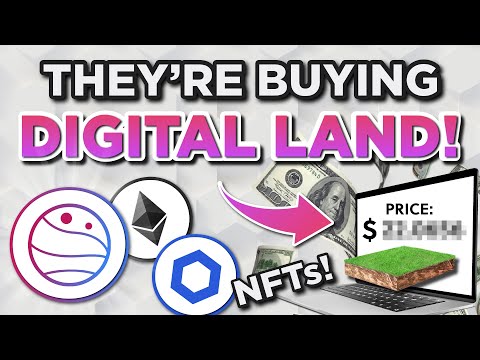 NFTs, DeFi, and the MeteVerse are where cryptocurrency is growing rapidly and providing money making opportunities turning crypto investors into millionaires – lets find out why?! Subscribe to VoskCoin - http://voskco.in/Sub
MetaGameHub merging DeFi NFTs and Metaverse MetaGameHub DAO
Compass sells ASIC miners - Compass — Bitcoin Mining and Hosting
Review the BEST Helium hotspot miners to buy - What is the BEST Helium Hotspot Miner to Buy? | by VoskCoin | VoskCoin | Medium
Bobcat Miner 300 is the BEST Helium mining rig - https://voskco.in/HNTb
MetaGameHub DAO MGH is merging DeFi Decentralized Finance NFTs Non-Fungible Tokens, and the Metaverse which are the hottest and fastest growing subsector in the cryptocurrency sector. Let's also review the potential upcoming free cryptocurrency airdrops in 2021!
LAND NFT analysis on OpenSea - Sandbox LAND analysis MGH - Google Sheets
MGH DAO Twitter - https://twitter.com/MGH_DAO
My new NFTs public address and account on opensea - https://voskco.in/oNFTS

Timestamps


00:00 NFTs are not going anywhere! Get involved today!
02:30 Potential new airdrops to look out for
03:45 MetaGameHub and their DAO
05:11 MGH want to fix the current NFT market
07:25 MGH DAO governance and tokenomics
08:21 Who is the MGH DAO team?
09:09 MGH is buying digital land for their DAO
11:52 Earning passive income with NFTs
VoskCoinTalk the VoskCoin forum - VoskCoinTalk - Best cryptocurrency & blockchain forum
VoskCoin Facebook - Redirecting...
VoskCoin Reddit - https://www.reddit.com/r/voskcoin/
VoskCoin Discord Server Invite - VoskCoin
VoskCoin Twitter - https://twitter.com/VoskCoin
VoskCoin Instagram - Login • Instagram
VoskCoin is for entertainment purposes only and is never intended to be financial investment advice. VoskCoin owns or has owned cryptocurrency and associated hardware. VoskCoin may receive donations or sponsorships in association with certain content creation. VoskCoin may receive compensation when affiliate/referral links are used. VoskCoin is home of the Doge Dad, VoskCoin is not your Dad, and thus VoskCoin is never liable for any decisions you make.
NFTs, DeFi, and the MetaVerse!