Are Nvidia graphics cards really out of stock AGAIN because GPU miners keep buying up all of the RTX 30 series cards for their crypto mining rigs to mine Ethereum and other crypto coins?! Sub to VoskCoin - http://voskco.in/Sub
Nvidia GPU prices are insane on Amazon - https://geni.us/PjN7MK1
Buy the most powerful AMD GPU for mining out now - https://geni.us/EloJu
Buy the best Ethereum ASIC miner here - http://voskco.in/a10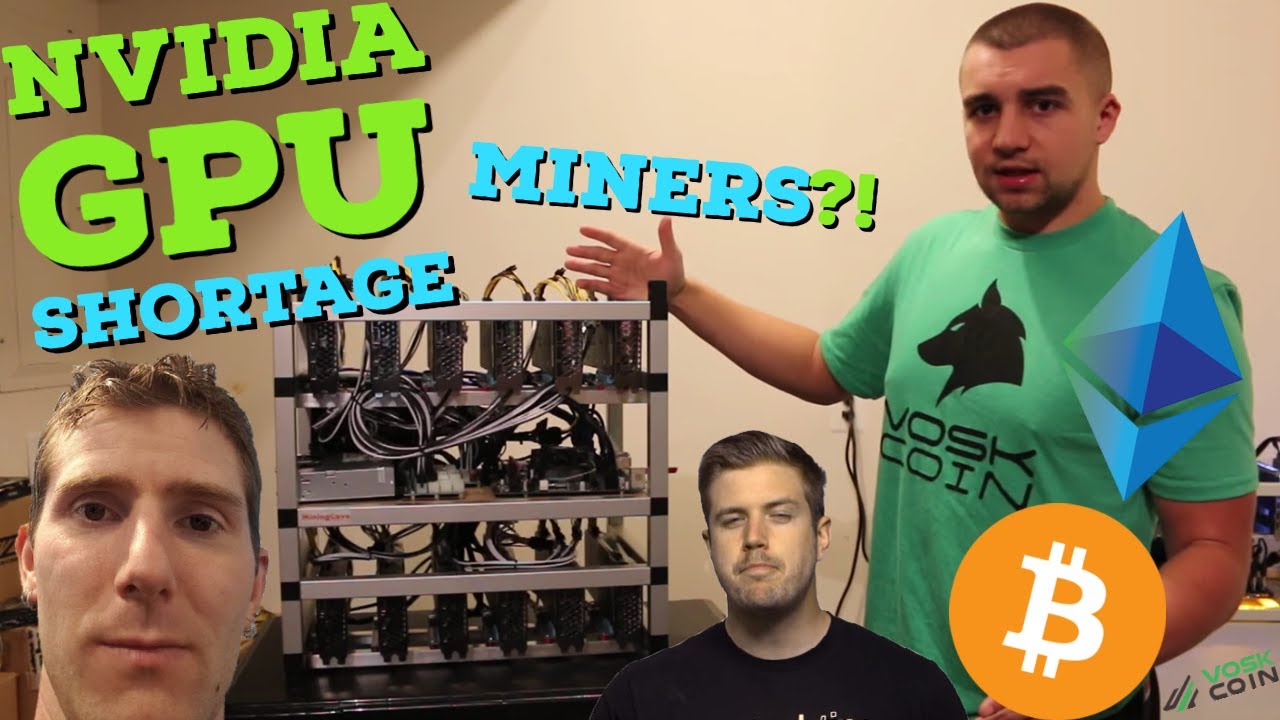 Okay seriously is it really crypto miners fault for a GLOBAL GRAPHICS CARD SHORTAGE?! I mean, is that really even a thing, can there be a shortage when there are literally thousands of new and used GPUs for sale on eBay, Amazon, and other common sites and stores? The problem is that some wealthy GPU mining farm operators bought millions of dollars worth of brand new Nvidia RTX 30 series GPUs. Yeah, the problem is that someone else bought what someone else… wanted to buy… GPU mining is where you turn a high-end graphics card into basically a money-printing machine, that's because many cryptocurrencies like one of the best crypto coins ever, is still mined with some graphics cards, GPU mining for Ethereum drives interest in buying graphics cards to build GPU mining rigs. The new Nvidia RTX 30 series of graphics cards, the RTX 3090, 3080, and 3070 are some of the BEST GPUs for MINING EVER so uh yeah, crypto miners will continue to buy them to mine Etherem and other profitable cryptocurrencies. This is a free market at work, and if anyone is to blame it is Nvidia for not imposing some sort of order limit – do not cry and whine that someone bought something instead of you, what a world we live in these days lol.
Links!
Review the most profitable GPUs for mining NOW! - http://voskco.in/kryptex
Nvidia sold $175 million worth of Nvida RTX 30 series graphics cards to crypto miners - http://voskco.in/o8hm
Ethereum 2.0 launching soon (ish) and staking rewards - http://voskco.in/eth22
HiveOS GPU mining statistics show whos using what cards - http://voskco.in/hiveos
VoskCoinTalk is the best cryptocurrency forum! https://voskcointalk.com/
Linus Tech Tips WAN show video clip from - https://www.youtube.com/watch?v=MiZ4yY2N3x8
Crypto-miners took our GPUs by techlinked - https://www.youtube.com/watch?v=BjRcNFgNo-g
Timestamps!
00:00 Nvidia GPU shortage thanks to crypto miners?!
00:55 Linus Tech Tips WAN show and Techlinked blames crypto miners
01:28 Linus and Luke of Linus Tech Tips discuss Nvidia shortage
02:08 Nvidia is to blame for a graphics card shortage, if anyone.
02:16 Tech YouTube channels weaponize gamers against GPU crypto miners
03:10 Bitcoin, Ethereum, and cryptocurrency are a financial revolution
03:41 Nvidia sold $175 million worth of Geforce RTX 30 series to miners
04:36 How profitable is GPU mining, SUPER PROFITABLE?!
06:32 Kryptex is an all in one GPU crypto mining solution
07:23 What are the best graphics cards for mining? Most popular?
08:38 How much longer is Ethereum going to be GPU mineable anyway?
09:39 Etheruem 2.0 staking rewards interest rate explained
10:31 VoskCoinTalk is the best cryptocurrency forum ever
11:08 Gamers cry about GPU crypto miners buying graphics cards
VoskCoin Facebook - https://www.facebook.com/VoskCoin/
VoskCoin Reddit - https://www.reddit.com/r/voskcoin/
VoskCoin Discord Server Invite - http://voskco.in/discord
VoskCoin Twitter - https://twitter.com/VoskCoin
VoskCoin Instagram - https://www.instagram.com/voskcoin/
VoskCoin is for entertainment purposes only and is never intended to be financial investment advice. VoskCoin owns or has owned cryptocurrency and associated hardware. VoskCoin may receive donations or sponsorships in association with certain content creation. VoskCoin may receive compensation when affiliate/referral links are used. VoskCoin is home of the Doge Dad, VoskCoin is not your Dad, and thus VoskCoin is never liable for any decisions you make.
Vosk of VoskCoin with his 12 1080 TI GPU mining rig crypto miner