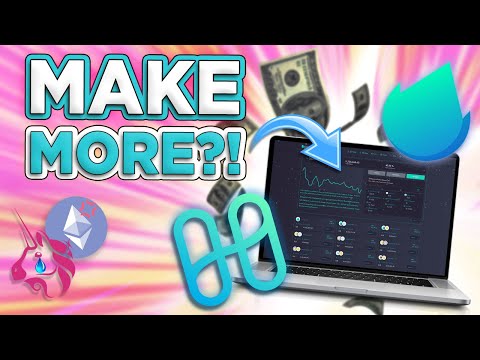 OpenSwap the NEXT Uniswap but on Harmony ONE instead of Ethereum?! Let's review how to make money and trade cryptocurrency on Harmony ONE blockchain using OpenSwap which is basically Uniswap but without the high Ethereum gas fees! Subscribe to VoskCoin for more! http://voskco.in/Sub
Trade Harmony ONE tokens and more on OpenSwap - OpenSwap Exchange - Exchange ERC20 / BEP20 tokens
Download the Metamask wallet here! MetaMask - Chrome Web Store
Review the BEST Helium hotspot miners to buy - What is the BEST Helium Hotspot Miner to Buy? | by VoskCoin | VoskCoin | Medium
Bobcat Miner 300 is the BEST Helium mining rig - https://voskco.in/HNTb
Compass sells ASIC miners - https://voskco.in/compass
Learn how to setup and use MetaMask with DeFi DApps - MetaMask Guide | BEST Ethereum Wallet for DApps and Smart Contracts - YouTube
Metamask is the key to making money with crypto on a lot of blockchains like Ethereum, Binance Smart Chain, Polygon MATIC, and newer more exciting blockchains like Harmony ONE! We recently reviewed how to set up Metamask with Harmony ONE and today we are reviewing the Uniswap of Harmony ONE OpenSwap an AMM Automated Market Maker DEX Decentralized Exchange that enables easy trading of cryptocurrencies and liquidity mining, staking, and farming with their OpenX token! Is OpenSwap really the next Uniswap and can Harmony ONE actually scale and become the Ethereum killer we are all hoping to invest in to become cryptocurrency millionaires?!
Download Metamask and get started earning money today! MetaMask - Chrome Web Store
How To Make Money with Metamask on Harmony ONE! - How To Make Money with Metamask on Harmony ONE! - YouTube
Trade tokens on OpenSwap on Harmony One! OpenSwap Exchange - Exchange ERC20 / BEP20 tokens
How to add Harmony One to Metamask - Metamask Wallet - OpenSwap
Timestamps!
00:00 A fast blockchain and DEX better than Ethereum and Uniswap?
01:36 Scaling cross-Chain Ethereum DApps on the Harmony blockchain
2:00 How to add Harmony to your Metamask?
03:47 How to trade on OpenSwap?
04:20 Trying to use the Harmony Block Explorer
05:05 Extremely low fees
06:53 How to add liquidity on OpenSwap
08:08 Earning passive income through staking
08:51 How to bridge your tokens on OpenSwap
11:05 Pay attention and use the v2 token: OpenX
13:28 A rug proof DEX?
14:56 Why choose Harmony and OpenSwap?
17:09 A validator node and OpenXnode earn how much?
18:11 A interesting blockchain and DEX
VoskCoin Discord Server Invite - VoskCoin
VoskCoin Facebook - Redirecting...
VoskCoin Reddit - https://www.reddit.com/r/voskcoin/
VoskCoin Twitter - https://twitter.com/VoskCoin
VoskCoin Instagram - Login • Instagram
VoskCoin is for entertainment purposes only and is never intended to be financial investment advice. VoskCoin owns or has owned cryptocurrency and associated hardware. VoskCoin may receive donations or sponsorships in association with certain content creation. VoskCoin may receive compensation when affiliate/referral links are used. VoskCoin is home to the Doge Dad, VoskCoin is not your Dad, and thus VoskCoin is never liable for any decisions you make.
OpenSwap the NEXT Uniswap but on Harmony ONE instead of Ethereum?!