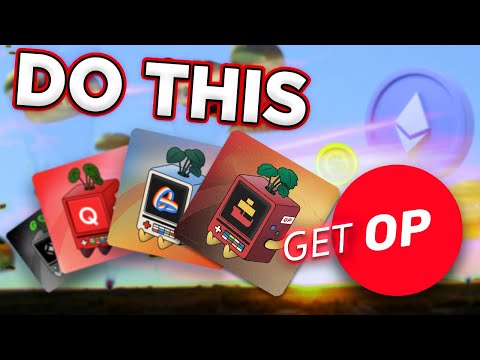 Potentially $1,000s of Dollars of cryptocurrencies are up for grabs by airdrop hunting on the Optimism blockchain! If you want to spend some time, get involved with some crypto projects, and potentially make some gains along the way, then this video is for you! Sub! https://voskco.in/Sub
Start your journey on the Optimism blockchain! - Optimism
Optimism Quests airdrop hunting page -Optimism Gateway
Galxe hunt crypto airdrops and earn NFTs! Galxe ID | Galxe
Watch our full beginners guide on Optimism and the OP token - Use Ethereum FOR FREE NO GAS FEES - Uniswap Optimism Layer 2 Guide - YouTube
Get tons of great sign-up bonuses with FTX! - FTX.US & FTX Sign-Up Bonuses — $15 free, 5% off fees & FREE Crypto! - VoskCoin - Medium
Optimism dropped its own token earlier this year, and if you were eligible you made some awesome free cash! But many people quickly forget that they have only airdropped 5% of their total allocated coins! This means that there will be future airdrops that could potentially be even bigger. Optimism is now running its quest program, which will very likely help you become eligible for another airdrop. These quests help you explore the Optimism ecosystem and are a great way to become eligible for other crypto project airdrops as well! Let's take a look at how to complete these quests, and what I'm doing to maximize my chance of getting the next OP airdrop!
Check out some of the other Layer 2 DeFi options:
How to get started with MetaMask - MetaMask Guide | BEST Ethereum Wallet for DApps and Smart Contracts - YouTube
DeFi explained: how to make money with DeFi - How To Use Decentralized Finance on Ethereum & Binance Smart Chain - YouTube
Arbitrum Layer 2 blockchain - Arbitrum – Scaling Ethereum
BNB Smart Chain BEP-20 best DEX - Biswap
Synthetix SNX website dApp - Synthetix
Uniswap decentralized exchange - Uniswap Interface
1inch DEX aggregator - 1inch - DeFi / DEX aggregator on Ethereum, Binance Smart Chain, Optimism, Polygon, Arbitrum

Timestamps


00:00 How to get crypto Airdrops
00:44 New airdrops are happening
01:36 Free crypto from the Optimism Airdrop
02:30 How to get more crypto from these Airdrops?
03:36 How to complete the Optimism Stargate quest
05:26 How to complete the Quix NFT marketplace quest
06:38 How to buy a NFT on Quix
10:28 How to complete the Velodrome Optimism Quest
12:41 Providing liquidity on the Velodrome DEX
14:30 How to complete the Granary Optimism quest
20:27 Are you going to hunt this airdrop?
Follow us on our official social media accounts! - VoskCoin | Twitter, Instagram, Facebook | Linktree
Subscribe to VoskCoin for more passive income tips! https://voskco.in/sub
Follow VoskCoin on TikTok for more shorts! TikTok
VoskCoin is for entertainment purposes only and is never intended to be financial investment advice. VoskCoin owns or has owned cryptocurrency and associated hardware. VoskCoin may receive donations or sponsorships in association with certain content creation. VoskCoin may receive compensation when affiliate/referral links are used. VoskCoin is home of the Doge Dad, VoskCoin is not your Dad, and thus VoskCoin is never liable for any decisions you make.
Optimism Airdrop Guide - Do THIS and Get Free OP Tokens?!