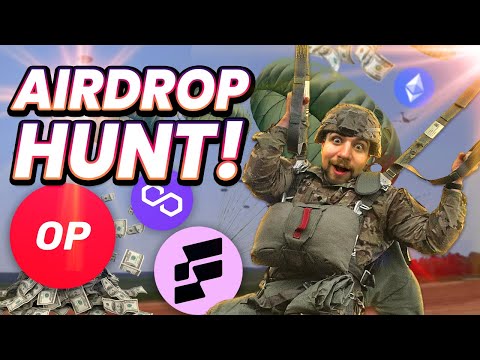 Optimism had another OP AIRDROP! Hunting the next big crypto airdrop! Optimism is a layer 2 solution to the scaling issues Ethereum has had and now with their own OP tokens a lot of use and development is taking place, what's next for OP airdrops?! Sub! https://voskco.in/Sub
The Evergreen CHIA miner earns easy passive income mining - Evergreen
Optimism isn't going away even if Ethereum solves their scaling issues, and although Arbitrum has become a very serious competitor we have yet to see the ARBI token be airdropped to the cryptocurrency users. Optimism just launched their OP token airdrop 2 and there will be several more optimism airdrops, we recap the OP galxe quests but then start looking at what is next for Optimism airdrops and hunting some other exciting crypto airdrops!
Start your journey on the Optimism blockchain! - Optimism

Timestamps


00:00 How can you get a crypto Airdrop?
01:14 How to get free Optimism tokens?
02:39 How to look for upcoming airdrops?
03:44 Optimism hits all time high!
04:33 How to delegate your tokens on the optimism Blockhain?
06:35 Does Optimism have a future?
07:36 Hunting for quests on galxe
09:11 How to use Hop exchange?
10:49 How to trade on Velodrome?
11:28 Airdrop hunting on DefiLlama
12:27 How to get the Li.Fi Airdrop?
15:29 Using the Bungee exchange for a potential airdrop
18:10 The Chief DeFi officer Tails
Follow us on our official social media accounts! - VoskCoin | Twitter, Instagram, Facebook | Linktree
Subscribe to VoskCoin for more passive income tips! https://voskco.in/sub
Follow VoskCoin on TikTok for more shorts! https://voskco.in/tiktok
VoskCoin is for entertainment purposes only and is never intended to be financial investment advice. VoskCoin owns or has owned cryptocurrency and associated hardware. VoskCoin may receive donations or sponsorships in association with certain content creation. VoskCoin may receive compensation when affiliate/referral links are used. VoskCoin is home of the Doge Dad, VoskCoin is not your Dad, and thus VoskCoin is never liable for any decisions you make.
Optimism had another OP AIRDROP! Hunting the next big crypto airdrop!