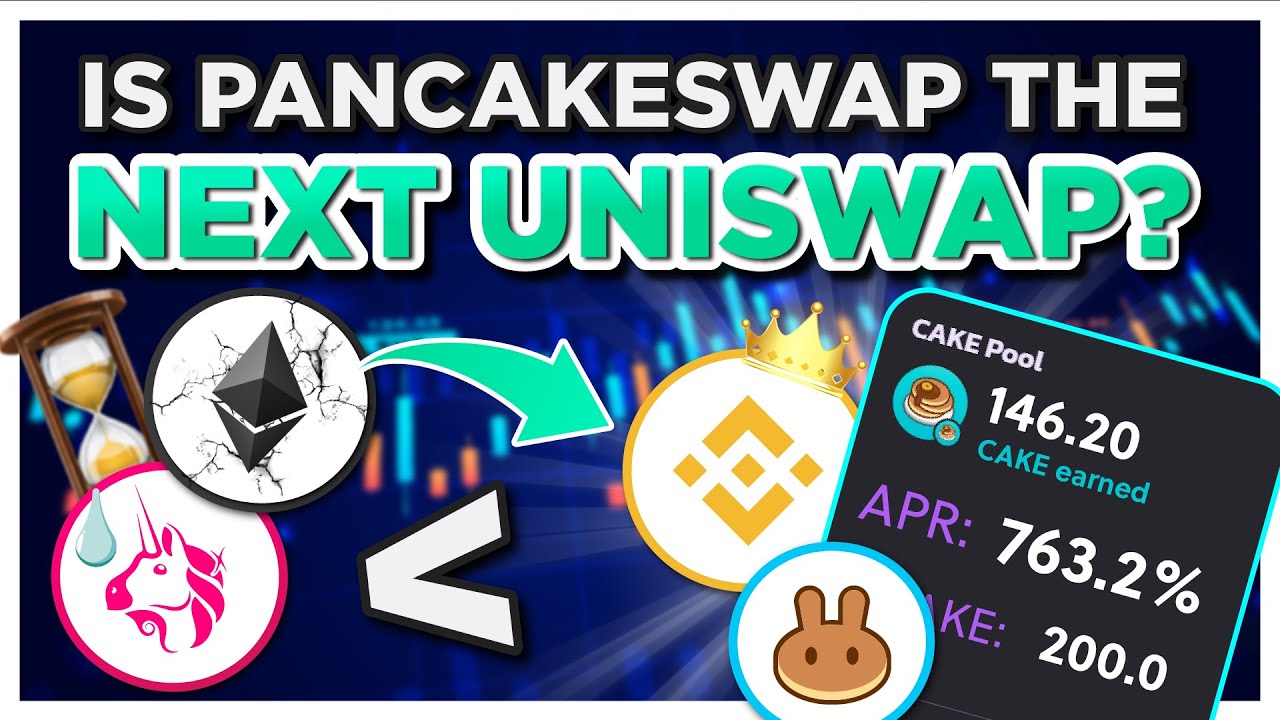 Binance Smart Chain is skyrocketing in use and value especially when compared with Ethereum so does that mean the biggest DEX is the next Uniswap? Is it too late to buy Pancakeswap CAKE tokens?! Subscribe to VoskCoin - http://voskco.in/Sub
Compass sells Bitcoin miners - https://voskco.in/compass
Buy BNB tokens as a US citizen here - https://voskco.in/bnbus
All hype and FUD aside Pancakeswap's use case is going up big, as Binance Smart Chain continues to build its userbase recently breached 1 million active BNB BSC addresses. Ethereum is crumbling due to outrageous gas fees, and Binance Smart Chain is a much more interesting alternative because of this. BSC is succeeding because Ethereum is failing, and this provides an opportunity for PancakeSwap the biggest decentralized exchange on BSC to make their CAKE token the next crypto moonshot. The CAKE crypto is already up huge, but what is a proper price prediction as they continue to burn CAKE tokens and build their trading volume vs Uniswap the most popular Decentralized Finance DeFi token and DAPP on ETH?! Let's review Pancakeswap, look at a $100 CAKE and $200 CAKE price prediction as well as review the Pancakeswap liquidity provider LP V2 migration!

Links!


Learn more about Pancakeswap V2 - https://pancakeswap.medium.com/the-great-migration-vote-4093cb3edf23
Pancakeswap CAKE finance BSC - https://voskco.in/pancake
Learn how to set up the Binance Smart Chain BSC wallet - https://www.youtube.com/watch?v=8NHnRlY9wtQ
Set up MetaMask with BSC Binance Smart Chain and easily swap BNB tokens! - https://www.youtube.com/watch?v=MGLiUHn6ZEs
Easy crypto DeFi airdrop eligibility with snapshot page voting - https://voskco.in/snap
Bitboy predicts a $100 and then a $200 CAKE crypto - https://www.youtube.com/watch?v=MbiPBdAKZh4

Timestamps


00:00 PancakeSwap and their CAKE token price prediction
02:10 Liquidity Provider (LP) Migration on PancakeSwap V2
03:16 Using Metamask with Pancake Swap
04:31 PancakeSwap on Liquidity
05:00 How to use Pancakeswap
06:48 PancakeSwap V2 migration
07:44 Binance Smart Chain is better than Ethereum
10:10 Voting on Snapshot for crypto airdrops
11:18 Details about PancakeSwap migration
12:17 PancakeSwap's Syrup Pools = easy crypto staking
13:18 Pancakeswap Lottery and CAKE NFTs
14:29 Fairspin
15:39 BSC is better than ETH so is CAKE better than UNI?
VoskCoinTalk the VoskCoin forum - http://voskco.in/forum
VoskCoin Facebook - https://www.facebook.com/VoskCoin/
VoskCoin Reddit - https://www.reddit.com/r/voskcoin/
VoskCoin Discord Server Invite - http://voskco.in/discord
VoskCoin Twitter - https://twitter.com/VoskCoin
VoskCoin Instagram - https://www.instagram.com/voskcoin/
VoskCoin is for entertainment purposes only and is never intended to be financial investment advice. VoskCoin owns or has owned cryptocurrency and associated hardware. VoskCoin may receive donations or sponsorships in association with certain content creation. VoskCoin may receive compensation when affiliate/referral links are used. VoskCoin is home of the Doge Dad, VoskCoin is not your Dad, and thus VoskCoin is never liable for any decisions you make.
Pancakeswap is going to be the next Uniswap + CAKE price prediction