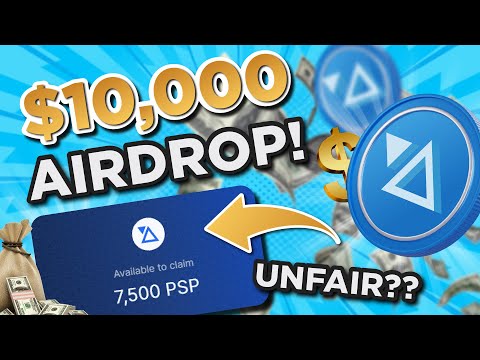 Paraswap is a decentralized exchange aggregator that many people were airdrop hunting and even though they just hit record high use and volume, after dropping their PSP token a lot of people even said Paraswap is a SCAM?! VoskCoin subscribers learn more and thus learn more! http://voskco.in/Sub
Check your Paraswap PSP airdrop eligibility here - ParaSwap - Solving Liquidity for DeFi
Mobilecoin has safe and easy crypto payments?! Private, Secure - MobileCoin
Big Dog Metaverse! Big Dog Metaverse – Official website of the Big Dog Metaverse
Compass sells Bitcoin miners - Compass — Bitcoin Mining and Hosting
Review the BEST Helium hotspot miners to buy - What is the BEST Helium Hotspot Miner to Buy? | by VoskCoin | VoskCoin | Medium
Bobcat Miner 300 is the BEST Helium mining rig - https://voskco.in/HNTb
A lot of people were excited for Paraswap to finally release a token, I've been using Paraswap for a long time, on and off, few trades here and there to support another Decentralized Exchange aggregator and also hopefully become eligible for their airdrop should they launch a token like Uniswap and Sushiswap did. Most crypto traders felt scammed when Paraswap determined they were not eligible for the Paraswap PSP airdrop but lets review Paraswap, how to use Paraswap, what is the PSP crypto token, and review the fallout of their BAD crypto airdrop!
Free Crypto Airdrop Links & more!
PSP Paraswap Token - Introducing the PSP token to make ParaSwap even more efficient and decentralized | by TokenBrice | ParaSwap | Nov, 2021 | Medium
Paraswap PSP active user token airdrop - What's an "active user"? Clarifying PSP token distribution filtering logic | by TokenBrice | ParaSwap | Nov, 2021 | Medium
1inch decentralized exchange aggregator - 1inch - DeFi / DEX aggregator on Ethereum, Binance Smart Chain, Optimism, Polygon, Arbitrum
TradeJoeXYZ avalanche AVAX defi dex - Trader Joe
Claim the ENS domains token airdrop here - ENS Airdrop
Claim your BRIGHT BrightID tokens - $BRIGHT Fairdrop
Zapper.fi potential crypto airdrop - Zapper - Dashboard for DeFi
Rabbithole.gg likely free crypto airdrop - Quests | RabbitHole
OpenSea likely token airdrop token 2022 - https://voskco.in/oNFTS
Claim the DYDX airdrop here - dYdX
Learn how to use Metamask - MetaMask Guide | BEST Ethereum Wallet for DApps and Smart Contracts - YouTube
Gitcoin continues to support ETH public goods! Quests | Gitcoin

Timestamps


00:00 Paraswap a decentralized exchange aggregator
01:12 Trading BNB on the Paraswap DEX
02:33 How to make a trade with ETH on Paraswap?
03:22 Exchanging Matic for Wmatic on Paraswap
03:44 Making a trade with Avalanche C-Chain on Paraswap
04:50 Big Dog Metaverse
05:50 Paraswap psp token will make Paraswap more decentralized?
07:53 PSP Tokenomics
09:06 How to be eligible for Paraswap airdrop?
11:09 Potential Airdrop Incoming
12:30 Mobile Coin
14:35 Paraswap is looking for every detail for this airdrop!
16:59 What DEX I am going to use in the Future?
18:13 Upcoming Airdrops!!
19:02 Conclusion what projects should We be looking for?
VoskCoinTalk the VoskCoin forum - VoskCoinTalk - Best cryptocurrency & blockchain forum
VoskCoin Facebook - Redirecting...
VoskCoin Reddit - https://www.reddit.com/r/voskcoin/
VoskCoin Discord Server Invite - VoskCoin
VoskCoin Twitter - https://twitter.com/VoskCoin
VoskCoin Instagram - Login • Instagram
VoskCoin is for entertainment purposes only and is never intended to be financial investment advice. VoskCoin owns or has owned cryptocurrency and associated hardware. VoskCoin may receive donations or sponsorships in association with certain content creation. VoskCoin may receive compensation when affiliate/referral links are used. VoskCoin is home of the Doge Dad, VoskCoin is not your Dad, and thus VoskCoin is never liable for any decisions you make.
Paraswap DEX Aggregator Review, Tutorial, and BAD AIRDROP?!