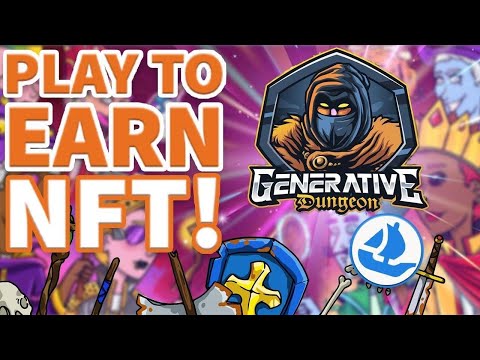 Playable NFT that GENERATES DUNGEONS and EARNS MONEY?! Generative Dungeon is a new NFT that you can actually play, making this a play to earn NFT and their own token on their metaverse roadmap! Subscribe to VoskCoin - http://voskco.in/Sub
Generative Dungeon merging NFTs and gaming! Generative Dungeon
FTX building the BEST NFT marketplace - Buy and Sell Crypto on FTX: Bitcoin, Ethereum and more
Get $10 for free on FTX! https://voskco.in/FTXapp
FTX international - FTX
Review the BEST Helium hotspot miners to buy - What is the BEST Helium Hotspot Miner to Buy? | by VoskCoin | VoskCoin | Medium
Bobcat Miner 300 is the BEST Helium mining rig - https://voskco.in/HNTb
Play To Earn games are absolutely the future, it will be the next biggest addiction, imagine gaming, but you can earn huge rewards from it, what an incredible way to monetize your time instead of just spending it or wasting it. Generative Dungeon combines NFTs non-fungible tokens digital collectibles with gaming by making each NFT a procedurally generated pixel art RPG dungeon crawling metroidvania roguelite game?! Generative Dungeon will be loot dropping their own token, a play to earn game, and a PLP PFP profile collection of dungeon crawling NFTs in the future, yeah I am a nerd and yeah I am excited lol!
Opensea NFT marketplace! https://voskco.in/oNFTS

Links!


Pancakeswap CAKE finance BSC - PancakeSwap
Learn how to set up the Binance Smart Chain BSC wallet - Binance Smart Chain Overview & BSC Wallet Tutorial - YouTube
Set up MetaMask with BSC Binance Smart Chain and easily swap BNB tokens! - Metamask Binance Smart Chain Setup Guide & BNB to BSC easy swap! - YouTube
Easy crypto DeFi airdrop eligibility with snapshot page voting - Snapshot

Timestamps


00:00 There's been huge developments in crypto
02:33 Disclaimer, something you want to know before watching the video!
03:26 Turn your time into money with play to earn!
05:00 The Sandbox Project
06:20 HyperX the future of gaming!
07:16 HyperX Goals!
09:33 HyperX have an audit completed by Techrate
10:20 HyperX tokenomics!
12:05 Team members in the hyperX
13:00 HyperX token Holders and addresses
13:45 Getting the hyper token
14:50 Conclusions should you get involved in the hyperX token?
Join the VoskCoin Telegram group Telegram: Contact @VoskCoingram
VoskCoinTalk the VoskCoin forum VoskCoinTalk - Best cryptocurrency & blockchain forum
VoskCoin Facebook - https://www.facebook.com/VoskCoin/​​
VoskCoin Reddit - https://www.reddit.com/r/voskcoin/​​
VoskCoin Discord Server Invite - http://voskco.in/discord​​
VoskCoin Twitter - https://twitter.com/VoskCoin​​
VoskCoin Instagram - https://www.instagram.com/voskcoin/​​
VoskCoin is for entertainment purposes only and is never intended to be financial investment advice. VoskCoin owns or has owned cryptocurrency and associated hardware. VoskCoin may receive donations or sponsorships in association with certain content creation. VoskCoin may receive compensation when affiliate/referral links are used. VoskCoin is home of the Doge Dad, VoskCoin is not your Dad, and thus VoskCoin is never liable for any decisions you make.
Playable NFT that GENERATES DUNGEONS and EARNS MONEY?!