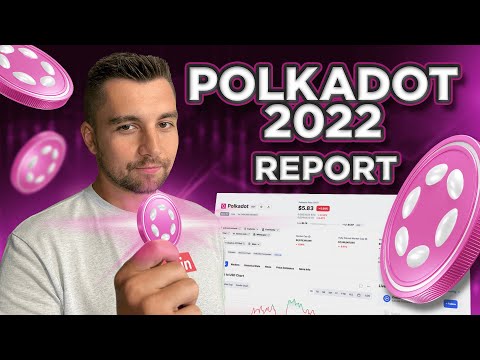 Here's everything you need to know about Polkadot and the DOT coin - from the ecosystem to statistics to news, we'll cover all the blockchain data you need to become a Polkadot $DOT & parachain master! Sub! https://voskco.in/Sub
Read the full report published by Messari here - https://messari.io/report/state-of-polkadot-q3-2022?referrer=asset:polkadot
Learn more about the Polkadot blockchain & parachains - Architecture · Polkadot Wiki
Get tons of bonuses when you sign up to trade DOT on FTX - FTX.US & FTX Sign-Up Bonuses — $15 free, 5% off fees & FREE Crypto! - VoskCoin - Medium
Join the best crypto Discord server and learn about crypto - VoskCoin
Polkadot is a Top 10 cryptocurrency with many intricate and complicated moving parts! With a controversial founder Gavin Wood and many advanced mechanisms powering their blockchain, the more you know about Polkadot and its statistics, the better you can predict what will take place and thus, have better gains! The State of Polkadot report from Messari contains all the vital information and statistics you need to be on top of everything related to Polkadot $DOT, so today we will be going to break down the valuable blockchain analysis you need to know. Whether you're thinking about breaking into the growing Polkadot ecosystem or investing in $DOT, you can't miss this!

You can't mine DOT - so start mining BTC instead:


Learn how to set up any Bitcoin miner - How To Set Up an ASIC Miner - YouTube
Watch our crypto mining electricity guide - Bitcoin Crypto and GPU Mining Electricity Guide! - YouTube
Check out CoinMiningCentral for ASIC miners- Coin Mining Central - UK Cryptocurrency Mining Hardware Supplier
Mine your Bitcoin with ViaBTC - ViaBTC | Sign up

Timestamps


00:00 Is Polkadot worth your time?
00:36 Key insights of Polkadot $DOT 2022
02:36 How does Polkadot work?
05:20 Financial Overview for Polkadot
11:59 Network Overview for Polkadot
15:01 Is Polkadot decentralized? Staking $DOT
21:27 Polkadot Ecosystem growth & development
24:40 Polkadot vs Kusama
26:02 Governance on Polkadot
27:58 Polkadot NFTs and speed increases?
29:19 Polkadot 2022 Review
Follow us on our official social media accounts! - VoskCoin | Twitter, Instagram, Facebook | Linktree
VoskCoin is for entertainment purposes only and is never intended to be financial investment advice. VoskCoin owns or has owned cryptocurrency and associated hardware. VoskCoin may receive donations or sponsorships in association with certain content creation. VoskCoin may receive compensation when affiliate/referral links are used. VoskCoin is home of the Doge Dad, VoskCoin is not your Dad, and thus VoskCoin is never liable for any decisions you make.
Polkadot 2022 Report - Full Blockchain Analysis